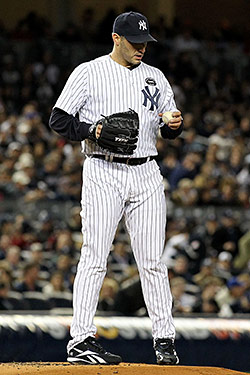 Andy Pettitte could very well decide to pitch next season, just as he did last winter. (Recent quote: "I don't know exactly what I want to do.") And, of course, the Yankees could extend the ALCS to seven games — or even win it in six and assure him at least one more start in the World Series. But if he decides this time around to retire, and the Yankees can't extend their postseason to allow for another Pettitte start this month, last night's outing would have been the last of Andy Pettitte's sixteen-year career.
And it bears repeating how great a start it was, even if it was overshadowed (with good reason) by Cliff Lee's performance. His stint on the disabled list and September inconsistency after coming off of it made Pettitte something of a question mark entering the playoffs. Needless to say, he's been their best starter to this point, and last night, after throwing the one bad pitch to Josh Hamilton, settled down and matched zeroes with Cliff Lee through seven innings. Like we said yesterday, sometimes even a great outing can result in a loss. This isn't what we had in mind, though.
For now, we'll hold off on any sort of reflection on Pettitte's career. After all, he could pitch again as soon as this Saturday, against Cliff Lee in a potential Game 7. He'll decide on his future after the season, but in the meantime, whether he starts again in 2010 is out of his control.