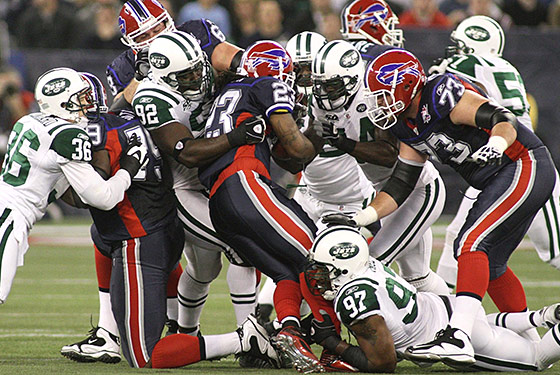 All right, first off: Why did nobody tell us Braylon Edwards was writing a blog for GQ? We've been waiting two and a half years for him to start blogging. Maybe this will finally help him get our back, for crying out loud. Don't worry, though: His head is back in the game this week.
For the first time this season, the Jets get to play a team that isn't expected to be among their main competition in the AFC: Every team in the AFC East essentially has two extra bye weeks with games against the Bills this year, and the Jets get to take one Sunday. That's of course offensive to say about a professional football team, and the Bills did play the Patriots tough last Sunday, but after the Ravens/Patriots/Dolphins trifecta to start the year, the Jets will take the relative breather. Particularly with Minnesota, Denver, and Green Bay next on the schedule.
Darrelle Revis will be out for the Jets again, which would be a larger problem if he were playing a team with an established passing game. (It might be nice to have him against Brett Favre next week. Oh, by the way: The Jets play Brett Favre next week. He used to play for them. You might hear some more about this in the next seven days.) This is actually a perfect week for the Jets to get back to the style of offensive football they've been wanting Mark Sanchez and Co. to play; Sanchez has had success the last two weeks, but generally speaking, they're better off getting ahead early and then plugging away, handing the ball off the rest of the game. Come to think of it: It might be a nice week to emphasize Shonn Greene. LaDainian Tomlinson has been a revelation so far, but he's 31 years old, which of course in football makes him 84 years old. The Bills give an opportunity for the Jets to work out some kinks outside the pressure of yet another nationally televised game with the "season on the line." The Bills are helpful that way.
This is all a shame: The NFL is a stronger league when the Bills — and teams like the Bills — are strong. But that's not the Jets' problem. The Jets need a week off. They're getting one.