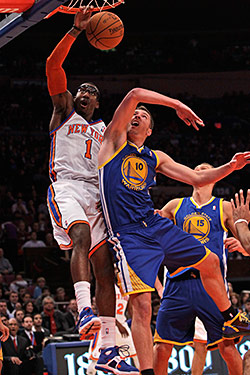 What to make of Amar'e Stoudemire's night? On the one hand, he scored 33 points, including thirteen in the fourth quarter as the Knicks erased what had been a nineteen-point deficit a quarter earlier. He tied the game with an old-fashioned three-point play with 3:49 remaining and hit a big three to bring the Knicks to within one with 14.4 seconds to go. But he'd also missed two critical free throws with 49.4 seconds left, after having made fourteen in a row. And he had the ball in his hands with the Knicks down three in their final possession — possibly with a chance to turn and shoot, at least according to Kelly Tripucka — before dishing to Wilson Chandler for a failed three-point attempt that effectively ended the game. On a night when the Knicks took an awful lot of contested threes, it was a fitting ending.
David Lee, meanwhile, couldn't have asked for a much better return to the Garden: an emotional video tribute, standing ovations from the crowd, a season-high 28 points, ten rebounds, and a 122–117 Warriors victory. When Chandler's shot bounced off the back rim in the closing seconds, it was Lee who grabbed the final rebound to seal the win. Lee had said that he hopes the Knicks win every game they play, except the ones against the Warriors. It's similarly easy to still root for Lee, often the lone bright on those pre-Amar'e Knicks. Except, of course, when his nightly double-double contributes to a Knicks loss.
Incidentally, if you have information as to the whereabouts of Wilson Chandler's tooth, you're hereby advised to alert team officials.