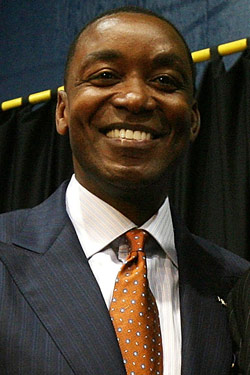 There's an awful lot to digest in Ian O'Conner's interview with Isiah Thomas on ESPN New York. For example, when asked if he hopes to replace Donnie Walsh whenever the Knicks president retires, Isiah answers, "Every single day of the week." (Before you start forming your protest, know that he'd later admit that this is a desire, not an expectation.) But Isiah's take on the LeBron James situation is particularly fascinating.
From the interview:



LeBron James would have taken his talents to the white lights of Broadway, not the white sand of South Beach, if Isiah Thomas had anything to do with it.

"I have to believe that," Thomas said, "because that was my plan. So I stick to it."
Hired as president of the Knicks in December of 2003, Thomas said he targeted James as the centerpiece of a future title winner in New York "from the first day he got in the league, as soon as I got the job."
So what you witnessed during the entirety of the Isiah Thomas era was Isiah's attempt to eventually land LeBron. It's possible this information actually makes him a worse executive than previously thought. So what did this plan involve?



LeBron James would have taken his talents to the white lights of Broadway, not the white sand of South Beach, if Isiah Thomas had anything to do with it.

"I have to believe that," Thomas said, "because that was my plan. So I stick to it."
Hired as president of the Knicks in December of 2003, Thomas said he targeted James as the centerpiece of a future title winner in New York "from the first day he got in the league, as soon as I got the job."
Now, give Isiah just the tiniest bit of credit here, because LeBron did indeed end up signing with a team on which he could play with his friends. Of course, those friends were more talented than, say, Jamal Crawford, but that's almost beside the point, what with the existence of a salary cap that Thomas seemingly paid so little attention to. (Incidentally, Thomas says he was confident Eddy Curry would opt out of contract in 2010 to clear space for LeBron. It's unclear why Thomas would think this, and it's equally unclear why he'd acquire Curry because he thought he'd appeal to LeBron, if he was expecting him to opt out before James arrived. Perhaps the expectation that he'd opt out came later? It's all very confusing.)
Said Isiah, and this is a real quote: "That's a problem with being a visionary. You're way too far out, and by the time it catches up, people will hack you to death."
Exiled Isiah is itching for an encore [ESPN New York]