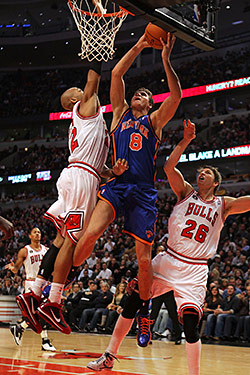 The last time the Knicks played a nationally televised game on TNT, back on November 29, 2007, Boston embarrassed them by 45 points. Last night, they more than justified getting another chance in an impressive 120-112 win over Chicago in which they shot 16-for-24 from beyond the arc. That's 67 percent. For comparison's sake, entering this game, they'd hit just 29 percent of their threes.
Toney Douglas led the Knicks with a career-high 30 points (including 5-9 shooting from downtown), but just as encouraging was the play of Danilo Gallinari, who after struggling in the team's first three games hit all four of the threes he attempted and finished with 24 points, 21 of which came in the first half when the Knicks built the lead they wouldn't relinquish.
Of course, the Knicks can't expect to hit two out of every three shots from beyond the arc every night. And in the long run, they can't expect to win regularly if Amar'e Stoudemire fouls out with fourteen points and eight turnovers. (It also helps when the likes of Derrick Rose and Joakim Noah don't play very much in the fourth quarter.)
But last night at least, the Knicks looked to have quite a few threats — Raymond Felton, for example, hit four of his six three-point attempts and finished with twenty points — and they were able to answer Chicago when it felt like momentum might be swinging toward the Bulls. But as satisfying as this one was, there isn't much time to reflect on it: They're back in action tonight at the Garden — where, don't worry, the air is totally safe to breathe — against the Wizards.