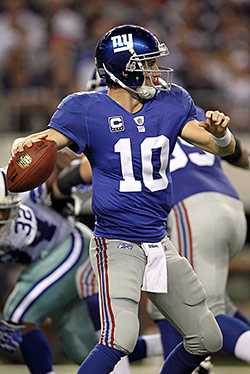 Jason Garrett has plenty of ties to the New York metropolitan area. He served as Kerry Collins's backup from 2000 to 2003, a period during which he attempted a total of zero passes. (He did, though, once give his teammates on offense harmonicas as a Christmas present.) On October 8, 1988, Garrett was the losing quarterback for Princeton on the day Columbia snapped its historic 44-game losing streak. (He'd also play at Columbia while his father coached there.) And now on Sunday, Garrett will make his head-coaching debut at the Meadowlands, against the red-hot Giants.
Since the Giants beat the Cowboys, 41–35, on October 25, Dallas has lost to Jacksonville and Green Bay and fired their head coach, Wade Phillips. The Giants, meanwhile, crushed the Seahawks, in Seattle, a week after their bye. The Giants couldn't have played much better last week; Dallas, meanwhile, hit rock bottom. (This seems like a good place to mention that Football Outsiders, at least, thinks the Cowboys have been bad but also unlucky thus far this season. For what it's worth.) In that October 25 game, the Giants turned the ball over five times. Last week, they turned the ball over just once — early in the game before the scoring floodgates opened.
In any case, the Giants won't have Steve Smith this week. Still, they're fourteen-point favorites for a reason. If this was any other team than Dallas, we'd suggest the Giants were already looking forward to their game against Philadelphia next week. But it's hard to imagine the Giants ever looking past the Cowboys, even a 1–7 Cowboys team with a second-string quarterback and an interim coach. A win Sunday, and they're guaranteed to enter that game against the Eagles in first place, no matter what Philadelphia does on Monday night against Washington. Which is exactly where they want to be.