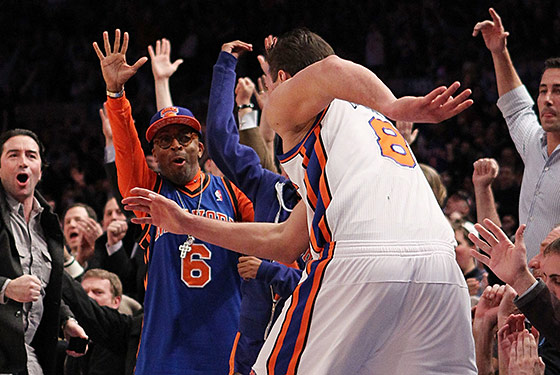 Because we are observers, standing on the outside, by our very nature fans overanalyze everything in sport. We attach narrative when it is not there, whether it's "same ol' Knicks" or "they're putting pride back in the Garden!" Basketball is played by twelve young men whose backgrounds are entirely different, who have likely only recently met one another, who, in many cases, barely know the city whose team they represent and come into town just for games. We like to believe their collective moods are rising and falling with the outcomes of their games, as if they are robots who only respond to the input of "win" or "loss." And we like to believe that a win is because they tried really hard, and a loss is because they didn't try hard enough. But this is all attaching more meaning to this than there is. Sometimes, a team loses because, well, because everyone is freaking tired. When they aren't so tired, they win. It really is that simple: People are at their best when they're well-rested. (Thus, you can gauge our lack of sleep last night from this overly wordy, somewhat nonsensical paragraph.)
After Saturday's brutal loss to Cleveland, the Knicks' third in a row, the doomsayers were out. (Including us.) But the Knicks just needed some sleep. We saw, in last night's blissful 112–98 Knicks win over Oklahoma City, what happens when a running team rests its legs, particularly against a team that, on the second end of a back-to-back, was as tired as the Knicks were energetic.
When the Knicks were tired last week, they started forcing the ball into Amar'e Stoudemire, expecting him to bail them out, rather than working everyone into the flow. Not a problem last night. The Thunder game was among the best of the season for Ronny Turiaf, Toney Douglas, Shawne Williams (one of the few to play well in the Cleveland loss), and Wilson Chandler, who is finally becoming what the Knicks have been begging him to be for two years. The Knicks so thoroughly dominated that, for the first time all season, all twelve Knicks played. (Sorry, Andy Rautins was in street clothes.) We had almost forgotten what Roger Mason Jr. looked like. Timofey Mozgov even got a dunk. It was a happy, warm evening; it was a hot cocoa, cookies, and Snuggie night.
Last week, we looked at the Knicks' schedule through January 28 and warned they could conceivably go 7–14 over that stretch. After the Cleveland game, the Knicks were actually behind that pace. Last night's win put them back on schedule and, more to the point, made you believe they could pull out some of those games they'd be expected to lose. And with no back-to-backs until January 11, they might be fresh enough to pull it off. All they need, apparently, is a little shuteye.