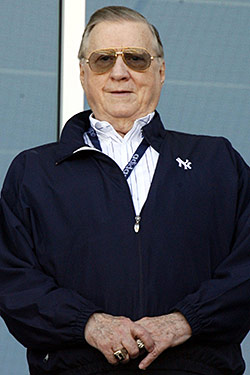 George Steinbrenner wasn't elected to the Hall of Fame today, and it wasn't even close: He received fewer than half of the sixteen votes of the Expansion Era Committee. (Twelve were required for election.) In a vote that took place just months after his death this summer, it's a pretty resounding rejection of one of the most controversial owners of his or any other era. It's also a shame.
Making a case for an owner isn't quite as simple as making a case for a player, or even a manager or GM: One can point to Roberto Alomar's .300 career batting average, or Pat Gillick's role in three World Series winners and argue for their election. But owners aren't historically judged on wins and losses alone. (Which is too bad for the Boss: Steinbrenner's teams won eleven pennants and seven World Series titles.) Over the summer, Joe Posnanski looked at the Major League owners already enshrined in the Hall of Fame — there aren't very many — and found that Steinbrenner stacked up pretty well next to men like Walter O'Malley (who ripped the heart out of Brooklyn brought big-league baseball to the West Coast) and Tom Yawkey (an open racist whose résumé is so thin his plaque notes that he was the first owner to have his team fly on an airplane).
Steinbrenner took advantage of a system that allowed him — and later in his life, his organization — to spend on free agents in a way that other teams could not. He was the quintessential big-market owner in the free-agency era, a big spender and bigger personality — an owner whose name was worth knowing. And that seems to be the thread linking O'Malley and Yawkey and Bill Veeck and most of the other owners in the Hall: They're names worth knowing — men whose names would inevitably come up when discussing their eras, even if sometimes for controversial reasons. Steinbrenner was no saint, but as many a Brooklyn resident would tell you, neither was O'Malley.
Johnny Bench, a member of the committee, thinks he'll get in eventually, saying today that "some people thought it was too early." (Which we suppose is how these things work. After all, this is the Baseball Hall of Fame, where Jim Rice can be elected twenty years after his career ended.) As we wrote this morning, Steinbrenner's career will never be fresher in the minds of voters than it is right now, just months after his death. But perhaps as the Expansion Era Committee holds future votes — and further reflects on the major themes of that period — they'll realize that the era's story can't be told without Steinbrenner.