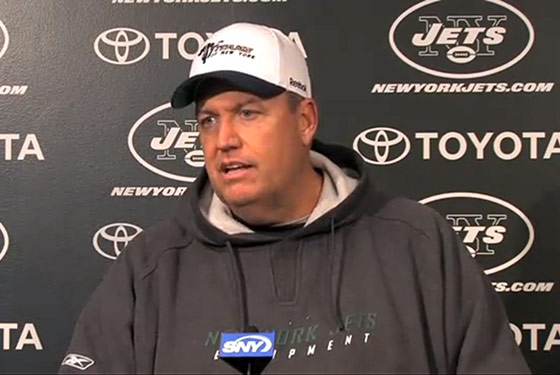 The Jets have a football game Sunday, against the Chicago Bears in Soldier Field, an important one, but not massively so: They're likely in the playoffs no matter what happens. Heck, they can clinch a playoff spot on Sunday even if they lose, if the Colts lose to the Raiders, or the Jaguars lose to the Redskins. It would behoove the Jets to find a way to clinch on Sunday, because it would be excellent to have the following Sunday's game, at home against Buffalo, be meaningless. The Jets could really use a week away — from everything.
We thought the Sal Alosi controversy was going to be the story that dragged on into perpetuity, but, to be fair, we couldn't have predicted that Rex Ryan would end up making videos about his wife's feet. (In retrospect, we should have seen it coming.) Much ink has been spilled as to whether or not the Jets should be "embarrassed" by Ryan's conduct, but that strikes us as profoundly ridiculous. We shall cop to an ignorance of the foot fetish community, but we have to say, now that we've finally watched the videos, if this is actual scandalous behavior, the foot fetish community is truly the tamest of all fetish communities. We were expecting Ryan's wife to be dipping her feet in … well, you know, something gross. Instead, it's just a nice lady rubbing her nice feet. We're fairly certain there's about 400 more sexually adventurous and nutzo things being done by someone involved with the NFL, right now, this very second, as we type. Honestly: We think it's all kind of cute. Good for them.
We bring that up because when the Chicago Tribune is running stories about the Jets actually designed in the shape of a foot — and who said newspaper design was dead?! — this is a story that might end up defining the rest of the Jets season. Which is fine in our book: It's more fun to root for a team whose coach loves his wife's feet than, say, a quarterback who murdered dogs or has been accused of rape twice. That's to say: This is the good kind of scandal. It's embarrassing for Ryan, but one of Ryan's modus operandi since he took over the Jets was to make a spectacle of himself to take the focus off his players. This is an extreme version of that, to be sure, but it's the same concept. We're all talking about Rex Ryan, and he has to be somewhat used to that by now.
Talking about Ryan and feet has almost completely hidden that, holy what, Mark Sanchez might not be playing Sunday? Sanchez is questionable for the Bears game with a sore shoulder, and Ryan, taking time away from putting an unusual amount of work in with Nick Folk and Steve Weatherford (sorry!), says he's a game-time call. It still seems likely that he'll end up playing, but just in case, imagine a universe in which the Jets are trying to clinch a playoff spot behind Mark Brunell, who has thrown 31 passes in four years.
Can you imagine if the Jets had all this chaos after a loss to Pittsburgh? Heavens.
Instead, though, the Jets, if they can beat the Bears or get a Colts/Jaguars loss, can potentially have a meaningless Week 17 game that allows them to rest Sanchez and have the eyes of the football world away from them, for at least one week. That's what they might need more than anything. It has been a long, crazy season, and the Jets need a short vacation. On Sunday, they can get themselves one.
We are very proud of ourselves for not ending this post with a kicker about feet. Unless "kicker" counts?