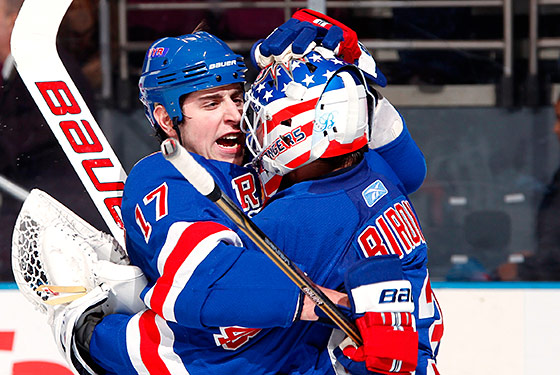 We've been thinking lately about something John Tortorella said back in October, after the Rangers competed for a full 60 minutes to beat Toronto and earn Martin Biron his first win as a Ranger. Tortorella said afterward that such games had to become the norm, that complete-game efforts like that one couldn't be looked at as special occurrences. We bring this up because yes, ideally, that's how the Rangers would win every game: controlling play from the opening face-off to the final buzzer. But there will also be games like last night's, when they twice find themselves trailing by two goals. And it's awfully nice to be able to win those games too.
The Rangers, in fact, have trailed entering the third period in three of their last four victories, though last night the momentum swung in their favor just before the second-period buzzer sounded: Short-handed, Dan Girardi cleared the puck in the period's final seconds, but Phoenix goalie Jason LaBarbara left his net to retrieve it, mistakenly thinking he could play it before it crossed the goal line into the restricted area. He couldn't. Brandon Prust retrieved it and stuffed the puck into the goal with six seconds remaining to cut the Rangers deficit to one. Derek Stepan's third-period goal — on a play started by Chris Drury's clean face-off win — tied the game, and Erik Christensen once again provided the difference in the shoot-out. The calls for "Henrik, Henrik" after Biron allowed two early goals proved to be premature.
The Rangers are proving to be a tough team to put away, and it's paying off as they slowly move up in the Eastern Conference standings. Looking solely at points earned can be misleading — the Rangers, after all, have played more games than all but one team in the NHL — but their 41 points are more than all but three NHL teams. And there's still some room for improvement with this team.
The Garden's other tenant might be using this week to gauge how well they can compete with the elite teams in the conference, and though it's probably not wise to put too much stock in just a few games, the Rangers could do the same. Already this week, they've pounded Washington (even though the Caps, to quote Bruce Boudreau, played that game with their asses in their heads), then contained Sidney Crosby in Pittsburgh, in a game in which they exploded for four third-period goals. And next will come perhaps the biggest challenge: tomorrow afternoon in Philly, against a Flyers team that leads the NHL in points and smoked the Rangers 4–1 in the teams' only meeting thus far this season.