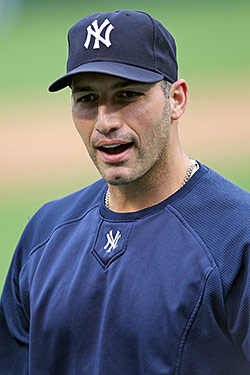 We suppose the verb "to Brett Favre" could be used in a couple of ways these days, but in this case, the Yankees GM is speaking of the left-hander's decision on whether or not to pitch in 2011 — and making clear that if Pettitte does decide to return, he needs to be fully dedicated.
Here's Cashman, speaking this week at a Middlesex County Chamber of Commerce breakfast meeting, via the Middletown Press:

"Andy has talking about being home for years," said Cashman. "Being from Texas and having to be in New York for six months out of the year can be hard because he has kids and he's missing important time with them. He's opting not to play right now but that might change it might not. I told him don't 'Brett Favre' us. You got to be all in and fully dedicated to play. Do I need him? I need him, but I don't want him to play if his heart's not in it."
That the Yankees need him — even in a year in which he'll turn 39, coming off a season in which he missed time with an injury — is an understatement. (If the season started today, both Ivan Nova and Sergio Mitre would probably crack the rotation.) So perhaps Cashman just wants to make sure the lefty is up for one more summer spent away from his family. But there's another reason to think Pettitte might have other things on his mind this summer: He's expected to be a witness in the July perjury trial against Roger Clemens.
Pitchers and catchers, for what it's worth, report on February 14.
Yankees' Brian Cashman talks wins and losses at Chamber of Commerce breakfast [Middletown Press via Was Watching]