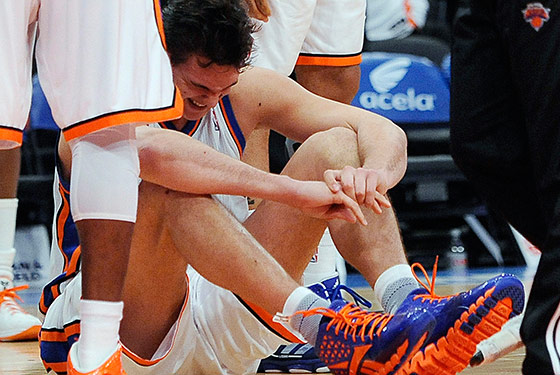 Mike D'Antoni has shortened his rotation, but the rotation, and the players' performances, are forever changing. As part of our Knicks coverage all season, taking a note from Mark Lisanti's "Mad Men Power Rankings," we'll be tracking each player every Tuesday. Come with us for the Knicks Power Rankings!
1. Amar'e Stoudemire. (Last week: 1) It wasn't the most inspiring week of Knicks basketball — two losses, one ugly win — but Amar'e kept plugging along, particularly in the fourth quarter, where he has been the most prolific scorer in the NBA. (He leads the league in fourth-quarter points.) He was also instrumental in the Knicks' late (and unsuccessful) comebacks against the Heat and the Magic. He's also still way behind Kevin Garnett in All-Star voting, which is just silly. It might be time to start worrying about Amar'e's rebounding, though: The Pacers, who aren't exactly Malone-Rodman-Barkley, dominated the Knicks on the boards and made a game close that shouldn't have been.
2. Raymond Felton. (Last week: 3) We know that Seth loves to put Landry Fields in this spot, but we still think it's saved for Felton, who deserves to make the All-Star Game almost as much as Amar'e does. Did you know that Felton leads NBA guards in double-doubles? Well, he does. He's also second to Utah's Deron Williams in twenty-point, ten-assist games. He hasn't shot as well of late, which is a concern, considering his shooting last year was far better than it had ever been in his career and was due to normalize. Some good news: His minutes are finally down a tick or two over the last week, so there's a chance his legs will still be attached to his body by March.
3. Danilo Gallinari. (Last week: 5) This is a little bit of a sympathy vote, because even though the Rooster initially thought he wouldn't miss much time, he's gonna be out for two to three weeks, and, frankly, that's awfully optimistic. His luckless knee injury late in the Pacers game was scary, not just because the Knicks don't have an obvious replacement for him but also because Gallo's been subtly expanding his game lately. He's driving to the basket like he never has before. Even with his trademark inconsistency, the Knicks are going to miss him, and he's going to be out for the team's most difficult slate of games all season.
4. Wilson Chandler. (Last week: 4) We're being too mean here, probably because he was so off against Indiana. He was a monster against Orlando, scoring 27 points and grabbing nine rebounds. Our only issue with Chandler: Is there anything in the world that might excite him? The guy hits a halfcourt shot … ehhh, says his face. The guy wouldn't change expression if you tased him.
5. Landry Fields. (Last week: 2) Here's something interesting: Your two-time Eastern Conference Rookie of the Month sat the bench almost the entire fourth quarter against Indiana, playing only thirteen minutes total. Hmmm. That was crunch time too; the Knicks very easily could have lost that game. Part of that is a matchup issue with the Pacers, but still: This is a guy who played 51 minutes earlier this year. Merits watching.
6. Toney Douglas. (Last week: 6) And here's the guy who was taking Landry's minutes. He played 28 whopping minutes against Indiana, the most he has played in about two months. He's shooting and dishing better too: His seven assists Sunday were the most he's dimed out — lingo! — all year. And with Gallinari out, he's the most theoretically reliable three-point shooter … when he's hot, anyway. Though that title might be challenged by …
7. Shawne Williams. (Last week: 8) He moves up a spot because he's going to be the three-point specialist Danilo is when he isn't driving the lane like he likes to do these days. Williams is a better defender and rebounder than he is given credit for, but we're still pretty dumbstruck by that 64 percent from long range. (For perspective, that's better than Ronny Turiaf shoots free throws.) That percentage is probably gonna go down in the next fortnight, partly because it's an insane percentage and partly because he's going to be getting a lot of opportunities.
8. Ronny Turiaf. (Last week: 7) The best Knicks-related Tumblr? There are a few good ones, but we're partial to Sartorial Swag, by Gian Casimiro, which is a daily photographic love letter to Clyde Frazier and Ronny Turiaf. (Along with other things.) Everything that site does exists to make the world a better place and its citizens better human beings.
9. Bill Walker. (Last week: 11) Hey, look who got some minutes! Walker played in all three games this week, and even though he didn't score, he did get in a tussle with Indiana's Roy Hibbert. Goaded on by the aforementioned Gian Casimiro, he pointed out on Twitter that "I wish they had celeb boxing still, I woulda folded hibbert like moms do the laundry!!! he know he ain't built for battle." For the record, we do our own laundry.
10. Timofey Mozgov. (Last week: 9) Now at least he has an injury to blame for not playing. 57–50, points lead, by the way.
11. Anthony Randolph. (Last week: 10) The Randolph apologists, desperate to see something, ANYTHING (this includes us of course), have devolved to the point that they're clinging to the possibility of Randolph getting minutes as the silver lining of the Gallinari injury. It is not best to hold one's breath for this one.
12. Roger Mason Jr. (Last week: 12) We're beginning to think that, maybe, Roger has abandoned his blog.
13. Andy Rautins. (Last week: 13) With Gallinari hurt, they're probably gonna let Andy wear a uniform again. He looks sharper in that suit.
Injured: Kelenna Azubuike, Eddy Curry