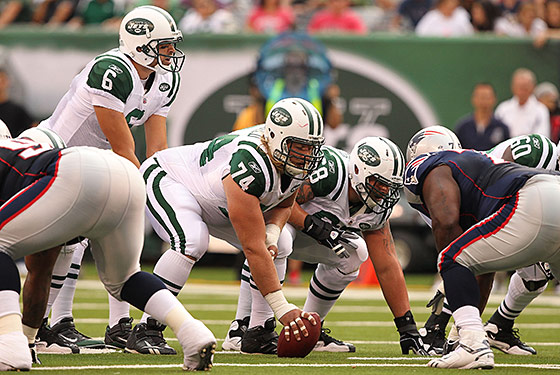 After the Jets knocked off the Colts on Saturday night, one of the local news broadcasts spoke to a Jets fan about the team's chances the following week against the Patriots. Sure, the Jets could beat the Patriots, the fan explained, because the Jets beat the Browns, and the Browns beat the Pats. (This, incidentally, is the same logic we use when arguing that Fordham's basketball team is better than Georgetown's basketball team. But we digress.) Perhaps the 45–3 pounding in Foxboro caused this particular Jets fan to forget that such logic isn't really necessary, what with the Jets themselves notching a victory against New England back in Week 2 — the Pats' only other loss this season. So what worked for the Jets on that day?
The short answer: Mark Sanchez. The second-year quarterback had a terrific game: He completed 21 (out of 30) passes and threw for three touchdowns (both career highs), good for 220 yards and what's still the highest single-game passer rating of his career. (He also didn't throw an interception.) It was, by this blog's count, his fifth professional "coming-out party," a week after neither he nor the team was very good in a Week 1 loss to Baltimore.
Which isn't to say some things haven't changed since then. For example: Darrelle Revis felt his hamstring tighten while defending a Randy Moss touchdown catch and didn't play in the second half. Also: Randy Moss was still on the Patriots. (It says something about the Jets' season that the AP game story makes mention of the Jets' "bad week on and off the field" in the second paragraph, and we had to keep reading to be reminded of which particular off-the-field story dominated headlines that week. It was the NFL's investigation into the team's treatment of Ines Sainz, by the way.)
In any case, Tom Brady threw for 248 yards on 20–36 passing on the day, but also threw two interceptions and lost a fumble as a result of a late sack by Jason Taylor. And though the Patriots would jump out to a 14–7 lead — one that would become 14–10 by the half — the Jets' defense kept them off the scoreboard in the second half, when a Nick Folk field goal, a Jerricho Cotchery touchdown (paired with a successful two-point conversion), and a Dustin Keller touchdown combined to give the Jets a 28–14 victory.