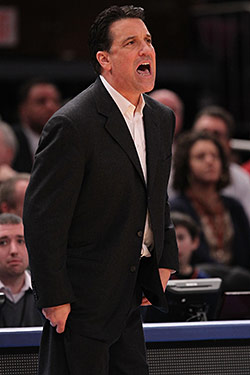 The Big East Tournament begins exactly one month from today at the Garden, and even with half of the conference's sixteen teams earning either a bye or a double-bye, St. John's may very well be playing on the tournament's opening day. Their current 5–5 conference record has them in a three-way tie for ninth with Cincinnati and Marquette, half a game behind eighth-place West Virginia. The Big East Tournament is, of course, the great wild card in St. John's tournament hopes: A couple of wins — particularly if any come against quality opponents — could nudge them off the bubble and into the field of 68. (Writing "field of 68" will take some getting used to, by the way, though at least we don't have to say "field of 96.") So where do the Johnnies stand this week?
SI.com's Andy Glockner, Rush the Court, and Yahoo all have the Red Storm as a nine seed. (After a win over Rutgers and a loss to UCLA over the past week, that's a one-spot drop on Glockner's board, and a one-spot improvement on Yahoo's. Rush the Court had them at a nine last week, as well.) But here's the fun one: ESPN's Joe Lunardi, who last week had them as a No. 9 seed, now projects them as a ten — with a first-round matchup in Charlotte against Will's alma mater, Illinois. (Little known fact about Mr. Leitch: He wears this helmet 24 hours a day during the month of March.)
On the Johnnies' schedule this week: two more difficult games, against UConn at the Garden on Thursday, and at Cincinnati on Sunday. And looking ahead, the following week's matchups (at Marquette and home against Pitt) aren't much easier. Ken Pomeroy, in fact, doesn"t have them winning another game until February 23 against DePaul. In the meantime, a win in one (or, if you're feeling optimistic, more than one) of those tough conference games would go a long way toward securing their tournament berth.