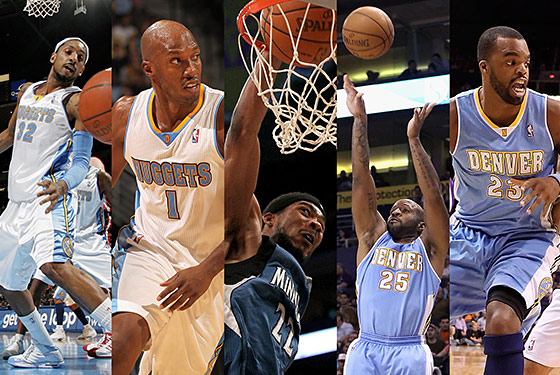 Carmelo Anthony obviously is the main attraction tonight — the game against the Bucks starts at 7:30, and Anthony's press conference is at 5 — but he's obviously not the only new Knick. We've said goodbye to those kind souls leaving us. Let's say hello to our arrivals.
Renaldo Balkman. He's back! You may remember Balkman from the 2006 NBA Draft, in which Knicks fans reacted to his selection with the twentieth overall pick with much mirth.
He wasn't so bad with the Knicks, actually; he's a hustle player, an excellent defender, and an efficient rebounder. He doesn't have an offensive game, but the Knicks aren't exactly lacking for scoring options. He's also one of three players under contract past next year: The others are Carmelo and Amar'e. And some Knicks fans still love him.
Chauncey Billups. Everybody loved Raymond Felton and all, but let's not forget: Billups is a five-time All-Star and a one-time NBA Finals MVP. He's a much better shooter than Felton — he's sixth all time in NBA history in three-pointers — and has started every game he's played for almost a decade. Of course, that's part of the problem: He's 34 years old, which means he's technically old enough to be Danilo Gallinari's father. He also, partly because he's old, is more of a halfcourt point guard than Mike D'Antoni usually likes. But let us not kid ourselves: Billups is a terrific player. Plus: He was once on the cover of a video game. Also: As immortalized by Lindsay Robertson, you are required to say his name in a crazy cartoon British accent, like: "CHAUNCEY BILLUPS, YOU MAGNIFICENT BASTARD, HOW DO YOU DO?"
Corey Brewer: Most NBA-nicks thought Brewer was headed to Denver, but hey, look, he's here! He's another defensive specialist, which, as established with Balkman, is handy on this team of scorers. Also: He was an integral part of those Florida NCAA championship teams, with Al Horford and Joakim Noah. Dude can also dunk like crazy:
Anthony Carter: Reason No. 1 to like Carter: He played his college ball at Hawaii. People from Hawaii are typically friendly. (He's being inducted into the Hawaii Sports Hall of Fame tomorrow.) He's instantly the oldest Knick — he's still younger than your author — and, if he is able to stay upright, he'll ease some of Billups's minutes at the point. The Knicks' point guards are almost as old as Donnie Walsh. (Well, combined.)
Shelden Williams. He went to Duke — he's the school's all-time leading rebounder and shot-blocker — but don't hold that against him. He'll get some minutes at the 4 spot, but mostly he's a pain for the Knicks' uniform maker, who has to figure out how to differentiate between "Shawne Williams" and "Shelden Williams." Maybe we suggest "She. Williams" on the back of his jersey? Considering he's married to WNBA star Candace Parker, who is probably better than he is, it might work.
Also: Carmelo is here.