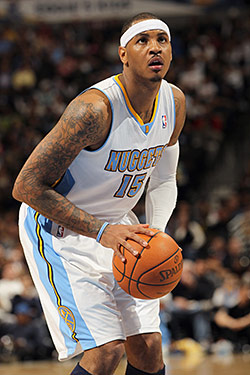 Both the Daily News and the Record report that, according to sources, the Nets and Nuggets have reached a tentative agreement to send Carmelo Anthony to New Jersey as part of a blockbuster nine-player trade. However — and this is a pretty substantial however — the deal is pending Anthony's agreeing to a three-year extension with the Nets. The trade, as have all of the trade proposals to this point, hinges on that extension. But if the reports are true, it means we've finally reached the key moment in the Carmelo Watch: He'll have to decide, once and for all, whether he'll sign that extension with the Nets — or perhaps more accurately, with a team besides the Knicks.
Here's something else to note: According to the News report, the teams reached the agreement late last night, before Anthony had met with Mikhail Prokhorov or Jim Dolan. But Anthony said today that "no meeting at all" is scheduled with Prokhorov. Said the Nuggets forward: "If I was to meet with that guy [Prokhorov], to be honest I really don't know what I would say."
So to this point, at least, Prokhorov hasn't had the chance to make his pitch in person. All of which adds another layer of importance to any meetings Anthony does take with either owner, if he does indeed take them. If a deal really is in place pending Anthony's extension, we're no longer dealing in hypotheticals: Prokhorov simply needs Anthony's signature, and Dolan needs to convince him to put down the pen.
The specifics of the trade, via the Record:

If Anthony says yes, the Nets will get Anthony, Chauncey Billups, Sheldon Williams, Melvin Ely and Renaldo Balkman from the Nuggets. In turn, the Nets will send Devin Harris, Derrick Favors, Troy Murphy, Ben Uzoh and four first-round picks to Denver.
The Record also reports that other aspects of the trade need to be worked out, including Murphy's final destination. (The Nuggets reportedly would like to move him to a third team.) But otherwise, it appears as if the ball is finally in Anthony's court now.
Carmelo Anthony: Nets and Nuggets reach tentative agreement on a blockbuster nine-player deal [NYDN]
Sources: Nets, Nuggets reach agreement; now it's up to Carmelo Anthony to say yes [Record]
Sitdown with Nets denied by 'Melo [NYP]