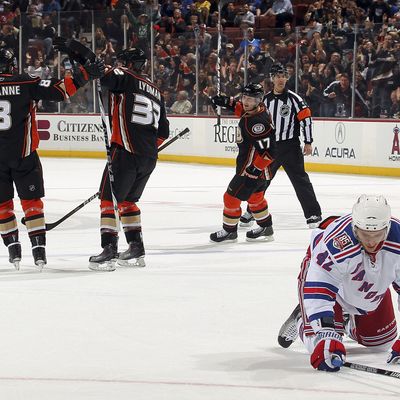 Photo: Debora Robinson/2011 NHLI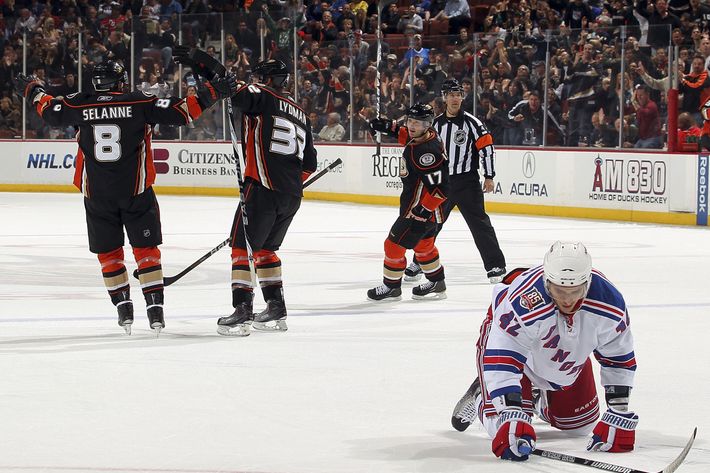 All losses — well all regulation losses — may look the same in the standings, but not all losses are earned in the same way. For weeks now, the Rangers had been, for lack of a better term, perfecting a certain type of loss: They'd fall behind, battle hard, but inevitably come up just short in a tight game. Last night was not one of those losses. Last night was something completely different, something, thankfully, much rarer.
John Tortorella's assessment — "We sucked" — got to the point in just two words. Save for the first five or so minutes, the Rangers looked sluggish — and incapable of matching up with the Ducks' top line of Corey Perry, Bobby Ryan, and Ryan Getzlaf. (Obviously, the Ducks don't look quite this dominant every night, but it says something about the tough Western Conference that even after last night's win, the Ducks are still in tenth place, two points out of a playoff spot.) Needless to say, the "white jerseys" theory has suffered a major blow.
Yes, the Ducks scored three times in the first period on deflections off of Rangers players (insert announcer comment here about how good things happen when you get the puck to the net), but they also demonstrated an ability to finish — precisely the thing (well, one of the things) that has eluded the Rangers this year. Perhaps the most obvious example of this you'll ever see: Brandon Dubinsky, looking to drive home a juicy rebound in the third period, shooting the puck just enough to the far side of the net to allow Dan Ellis to reach out and swat the puck away with his stick. The Ducks would then turn that save into a two-on-one rush the other way, Perry would slide the puck past Dan Girardi to Ryan, and he'd bury the shot. This turn of events made the score 4–1, instead of 3–2. The Ducks would go on to cruise to a 5–2 victory.
So the Rangers remain at 74 points, seven points behind sixth-place Montreal. The Sabres are just two points back in eighth, and the Hurricanes, thanks to an overtime loss last night, have 72 points as well. And the Rangers' two-game West Coast swing only gets more difficult from here: They'll play San Jose — currently atop the Pacific Division with 84 points — on Saturday night.