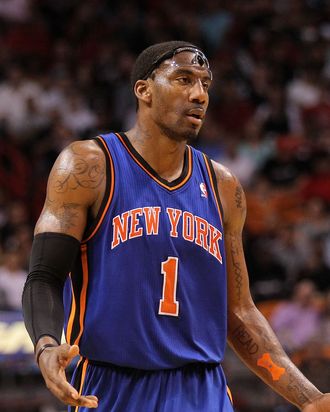 Photo: Mike Ehrmann/2011 Getty Images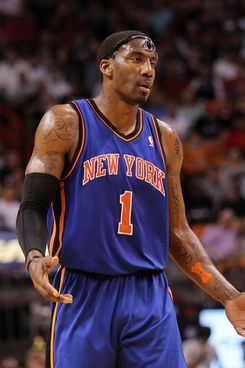 The Knicks' Amar'e Stoudemire got whistled for a technical foul — his sixteenth of the season — after grappling with Brendan Haywood during last night's loss to the Dallas Mavericks. That No. 16 is important because it would put Stoudemire over the limit and earn him a one-game suspension.
Fortunately, the technical has been rescinded upon league review. At the time, the call was met with dismay by those participating in and watching the game (Mike D'Antoni actually received a tech of his own for arguing the whistle), and the league offices determined that the contact made between Stoudemire and Haywood was no more than the usual banging that takes place anytime 250-pound people are playing a contact sport. Stoudemire's infraction count now drops back down to fifteen, with Orlando's Dwight Howard being the only player to be suspended for surpassing the limit so far this season.
What's funny about all this is that, unless Amar'e seriously changes his on-court demeanor — he's had quite a few animated objections go overlooked — that suspension will eventually come. With eighteen games left to play (and in which to act out) and playoff seeding in tight contention, the Knicks might actually have preferred that Stoudemire just get his ban out of the way during Sunday's home game against the lowly Pacers than at some point later in the season. One variable in play, of course, is the fact that the technical count does not reset after the suspension limit is reached. After sixteen, every second penalty warrants another missed game. It isn't until the playoffs that the count resets. Really, though, this could all just be avoided with some impulse control: deep breathing, repetition of soothing mantras, and channeling of one's anger into the task at hand. Can't we all just get along?