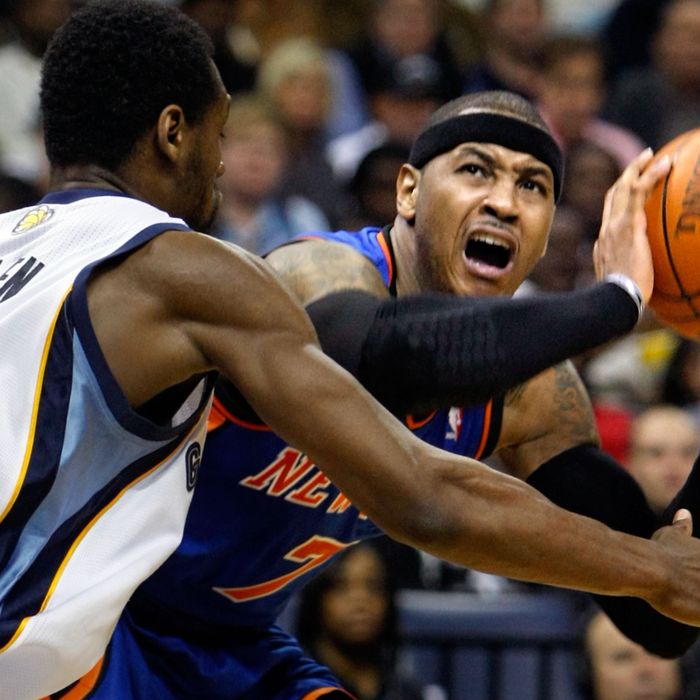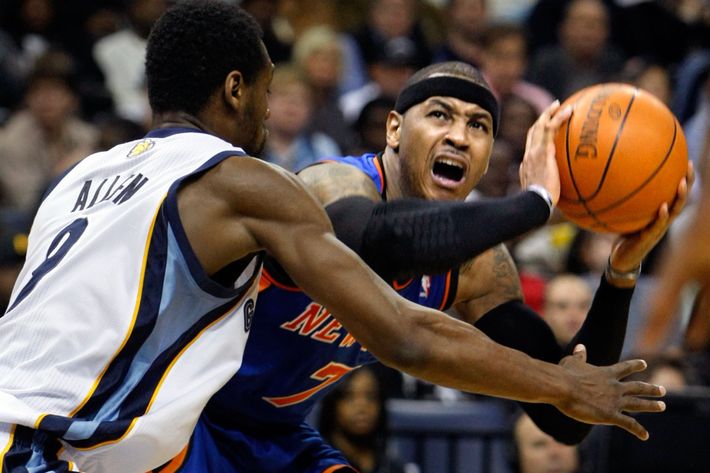 For all his faults, apparent and otherwise, Carmelo Anthony, even among his detractors, is the guy you want with the ball when you're tied or down by one on the last possession of the game. He is not playing defense then, he's not heading for a rebound, he's not doing any of the things that Carmelo is not great at. He is just trying to beat his man and score in any way possible.
No one does this better than Carmelo. David Thorpe, an analyst for ESPN, once put it thusly:

"He's the best pure scoring small forward in the world. By pure scorer, I mean, if you just have one possession, he's the toughest matchup for a defender. He can shoot a 3. He can pull up. He can dribble drive. The triple threat game is very sophisticated. He's dynamite once he gets in the lane. And unlike LeBron James or Kevin Durant, Carmelo has a mature and reliable post game. LeBron is a better all-around player, but Anthony's the better bucket getter."
Last night, in his ninth game as a Knick, Carmelo had his "give him the ball and let him win" moment. His bucket with less than a second left last night beat the Grizzlies 110–108 and added another notch to his Knicks legend, a legend that has lasted nine games (two of which have been losses to the Cleveland Cavaliers).
It was the Knicks' third win in a row, and they're now 6–3 since Carmelo got here. (And 4–1 since Chauncey Billups has been hurt.) It was a game the Knicks dominated throughout before collapsing in a wild heap late, a plummet that was halted, suddenly, thrillingly, by Carmelo's bucket. It was just another of those crazy Knicks games that have been happening so often since The Trade. It's a whirlwind.
For the first time since John Hollinger started tracking playoff odds, the Knicks hit 100 percent last night, which means at some point, we're going to have that moment when we realize, Holy cow the Knicks are going to the playoffs. (Their 34 wins is already their highest total in a decade.) You're probably thinking, "Eh, the Grizzlies," but Memphis is a good team this year, on track for near-50 wins and a playoff spot in the ultracompetitive West. The Knicks were clearly the better team last night — even without Billups — and the game shouldn't have been nearly as close as it was. But if it hadn't been close, we wouldn't have our first Carmelo Moment. So we're glad it was close.