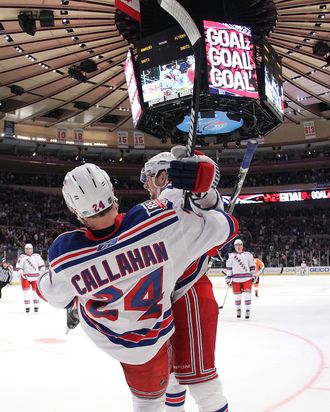 Photo: Al Bello/2011 Getty Images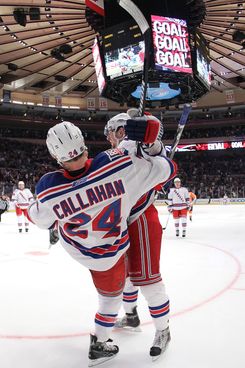 The difference between the Rangers home record (14-16-3 going into yesterday's game) and their away record (20-13-1 following Friday's win in Ottawa) has been well-documented. So clearly, the Rangers' decision to wear their road whites for yesterday's game against Philadelphia at the Garden explains their impressive 60-minute effort in a 7–0 rout of the conference's top seed. It's either that, or Ryan Callahan's career day. Could be that, too.
Callahan scored four times and added an assist yesterday, but really, his whole line stood out. As did Henrik Lundqvist, who registered his ninth shutout of the season. As did a defensive corps that slowed a dangerous Flyers team. As did Mats Zuccarello, who scored twice himself. On the day the Rangers got Marian Gaborik back — he didn't register a point but had a couple of solid opportunities — the Rangers appeared to gain confidence by the minute, starting with Callahan's first goal, set up by Dubinsky, 51 seconds into the game.
Speaking of Gaborik: He also appeared ready to defend himself when Kris Versteeg whacked at his stick following a second-period whistle, though after a few moments of shoving, Michael Sauer — and the linesmen — stepped in before a full-on brawl could begin. But John Tortorella didn't appear worried that his star winger — the one who fought Dan Carcillo last year — might get physical. Said the coach: "I'd like to see Gabby smoke him." (And speaking of Rangers smoking Flyers in fights: If Mike Richards hoped to swing momentum toward his team with an early second-period fight with Dubinsky, it didn't work.)
Perhaps the Rangers caught the Flyers at a good time: They've lost four straight now and played yesterday without Jeff Carter, who has the flu. But make no mistake, the Rangers played their most complete game in some time, took advantage of Philadelphia's mistakes, and buried more than enough opportunities. And considering how many games they've lost over the past month by a lone goal, the importance of that last point can't be overemphasized. Perhaps the worst is finally behind them.