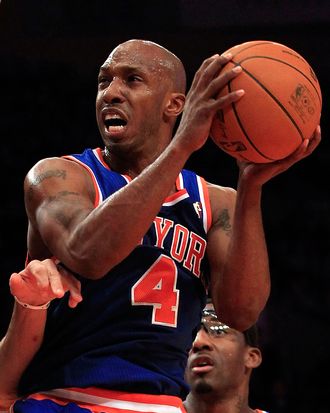 Photo: Chris Trotman/2011 Getty Images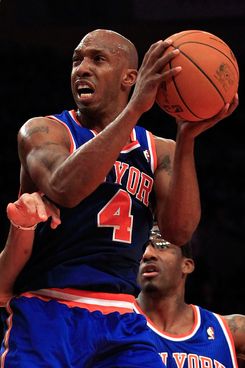 Chauncey Billups's stoic demeanor is a blessing and a curse, fandom-wise. When he's on, it gives his pull-up threes and strong late-game drives a more badass hue, like, "I'm sorry I had to can that stepback three in your face, but it was my solemn duty as a man and a warrior." But when he's off, it just looks like he just doesn't care.
Lately, his facial expressions have seemed a lot less "intimidating thematic compliment to killer shot" and a lot more "apathetic underlining of poor performance." Carmelo's problems integrating into the offense and Amar'e's inability to stop Tyler Hansborough and Fat Boris Diaw from looking like Karl Malone and Skinny Boris Diaw have gotten the most attention, but there's an argument to be made that the biggest problem has been the third member of the Big Three. Since returning on March 13 from a thigh injury, Billups has a plus-minus total of negative 75, meaning the Knicks have been outscored by 75 points while he was on the floor. The team as a whole is minus 38 — or, put another way, they're 37 points better than their opponents over the last nine games while their starting point guard isn't playing. (If you were wondering, the plus-minuses for Amar'e and Carmelo are around -40.) Billups, over that stretch, is shooting less than 40 percent from the field and only 28 percent from three. On the other end, opposing guards — most notably Brandon Jennings, who dropped 37 at the Garden last Friday — have been taking the Knicks downtown, uptown, and to Chinatown with ease. In spite of this poor play, Billups is still playing major minutes and taking a lot of shots.
This is all more frustrating given how unlikely it is that a widely respected veteran like Billups — one who has a team option, rather than a guaranteed contract, for next season — is in fact not trying as hard has he could. If effort was the problem, all the team would need is someone to take Billups aside for an inspirational speech, perhaps one that made reference to a specific totem that reminded him of his youthful passion for the game. Phoenix's Game 6 victory over Dallas in the second round of the 2005 playoffs, for example, is widely credited to a 45-minute pregame Mike D'Antoni monologue about dinosaur pajamas. But there are no magic motivational pajamas in Knicktown at the moment, just an aging point guard with a bum thigh. The fact that Billups is a widely respected veteran gamer might even be working against the team; maybe he's too proud to beg out of the lineup and D'Antoni doesn't want to overrule/bench the most accomplished player on a team with already-dicey chemistry.
The Knicks do get something of a break tonight against the Magic — spry young guard Jameer Nelson might be out resting a sore knee. With New York still somehow four and a half games ahead of the ninth-seeded Bobcats in the playoff race, perhaps Billups could stand to rest a few games, too. There's no time before the playoffs start to sign a paint-protecting big man or run Carmelo through a monthlong D'Antoni-ball training camp. But there might be enough time to get Chauncey Billups up to speed, and that could mean the difference between a competitive series and a nationally televised sweep that sends Donnie Walsh, whose job is for some reason imperiled, out the door.
To rephrase that last paragraph more succinctly: Chauncey Billups's recovery is now the most important thing in the world not happening in Japan or the Middle East.