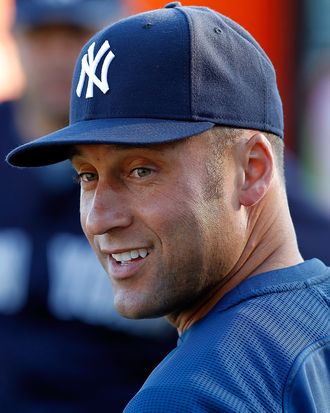 Photo: J. Meric/2011 Getty Images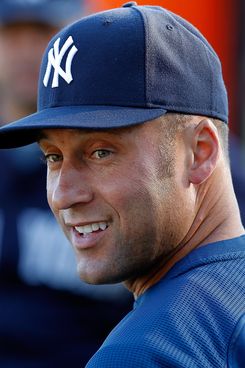 The Yankees' captain is on the cover of GQ this month, and for the most part, the story presents the Derek Jeter themes you're already familiar with: He's an all-time great shortstop, but some people don't think he deserves quite so much praise. He's getting older and struggled last season in advance of his messy contract negotiations. He's dated lots of famous women. And he has managed to avoid any major controversy. If you're looking for a shred of new information about Jeter, it's on this last point.
Jeter is portrayed as a master at avoiding unwanted media attention, particularly with regards to his personal life. ("Derek Jeter could be a guru … I don't know how he avoids it," says former "Page Six" editor Richard Johnson.) And Seth Mnookin's piece details a couple of methods Jeter has used to stay away from unwanted coverage. For example, early in his career, he'd use a different door than his dates when entering and leaving clubs. And — in an story relayed from Ian O'Connor's upcoming book about Jeter — we learn of a party that Jeter hosted at which he "politely asked his guests to remove any cell phones or cameras they were carrying and place them on a table, explaining that he wanted to protect his privacy."
Also, unlike a certain teammate, he apparently knows how to do a photo shoot with a men's magazine without it becoming a story in and of itself. Among the photos accompanying the article: Jeter posing with a comically oversize baseball bat, and Jeter goofily holding a couple of baseballs up to his eyes.