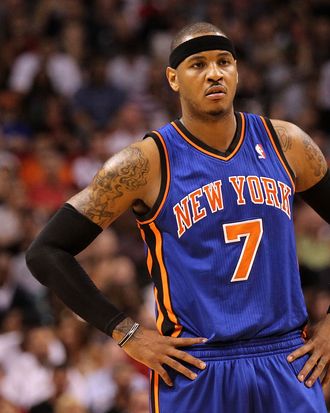 Photo: Mike Ehrmann/2011 Getty Images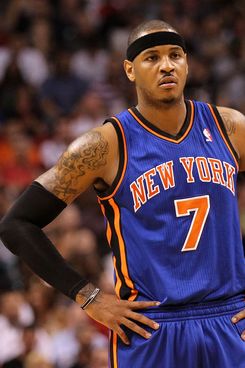 It's hard to recall this year's Knicks — any version of this year's Knicks — playing a worse quarter than they did in the first quarter in Milwaukee yesterday. After twelve minutes, the Knicks had shot just 4-for-25 from the field, and trailed 32–9. As you might expect from these inconsistent, Jekyll-and-Hyde Knicks, they'd then go on to mount a comeback, pulling to within six at the half and making a game of it in the fourth quarter. But 32–9 is an awfully deep hole — too deep, in fact, on this day.
And so we wait still for everything to click, on a consistent basis at least. The Knicks are 7–8 since the trade for Carmelo Anthony, and for every impressive effort against a Miami or an Atlanta, there's a game like yesterday's, in which they're torched by Carlos Delfino. The hope, of course, remains that the Knicks will start to jell in time for the playoffs. (As of today, the Knicks are in seventh place in the East, a half-game behind Philly and five and a half games ahead of the Pacers.) But none other than Anthony himself warned yesterday that everyone might not fully be on the same page until next season. Via the News:

"For everyone to get 100% on the same page, it might take next season," Anthony said. "But right now, in this short period of time, we've just got to come together as a unit. As far as everybody jelling and the chemistry and clicking to where we want to be at, it's going to take some time."
So adjust your expectations accordingly. Yesterday's 100–95 defeat makes five losses out of six for the Knicks — with four of those five losses, including yesterday's, coming to teams below .500. It would seem that this stretch would have been an excellent time for that jelling process to accelerate, but instead, questions still linger. And the schedule over the next few days only gets harder: a home game against Boston tonight, then one versus Orlando on Wednesday. Then Friday, these same Bucks — the ones the Knicks also defeated in Carmelo's first game in New York — come to town for a rematch.