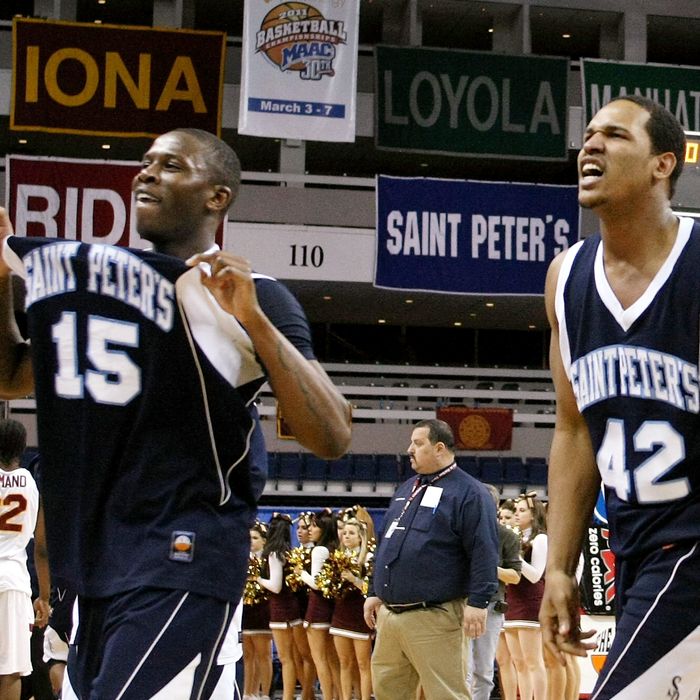 Photo: Chris Chambers/2011 Getty Images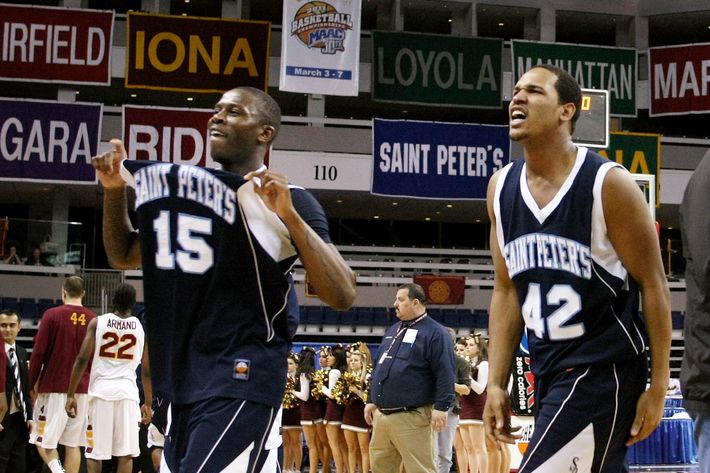 The NCAA Tournament begins in earnest on Thursday, and this year's bracket includes three area schools: two from the city proper, and one located just across the river in Jersey City. Over the next few days, we'll take a look at each of those three local teams. (Sorry, Princeton, UConn, and Syracuse: You're too far away for purposes of these previews.) Today: the St. Peter's Peacocks, the No. 14 seed in the Southwest region.
How They Got Here: John Dunne, who won just five and six games respectively in his first two seasons as head coach st St. Peter's, has turned the program around in his five years in Jersey City. After an 11–7 finish in the MAAC this season, the Peacocks won three games in three days last week to up their overall record to 20–13 and take the conference tournament, knocking off Loyola-Maryland in the quarterfinals, top-seed Fairfield in the semis, and second-seed Iona in the finals.
Key Wins: After starting the season 0–3, they topped Alabama — a No. 1 seed in the NIT — to take seventh place at the Paradise Jam in St. Thomas. Five days later, they'd hand tourney-bound LIU one of its five losses.
Who to Watch: Senior guard Wesley Jenkins — who missed seven games this season with a knee injury — leads a balanced scoring attack in which four players average in double figures, all between 10.0 and 12.8 points per game. Senior forward Ryan Bacon leads the Peacocks with 7.5 boards per game.
Tournament History: This is the first appearance for St. Peter's in Tournament since 1995 — they lost in the opening round that year to regional finalist UMass — and their third overall. (In their one other appearance, in 1991, they lost to Texas.)
Who They'll Play: No. 3 seed Purdue, at the United Center in Chicago, at 7:20 on Friday night.