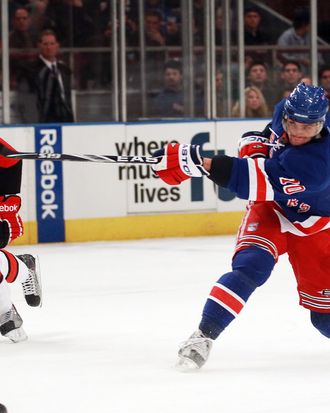 Photo: Bruce Bennett/2011 Getty Images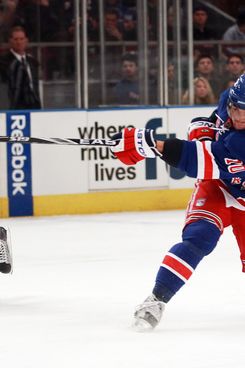 So the Rangers won a game last night, at home, in which they scored six goals, three of which came on the power play. (Every aspect of that sentence should make Rangers fans want to high-five the nearest stranger.) But perhaps more important, they appear to have righted their ship just in time: Last night's win makes four out of five with eleven games remaining. And after an ugly loss in Anaheim last week, they bounced back with a win over the Pacific-leading Sharks and an encouraging 6–3 victory last night, their second straight convincing win at the Garden. In a tight playoff race, these are all very good things.
They showed some resilience within last night's game, too: A two-goal lead earned with a strong first-period was wiped out in the first four minutes of the second. But they didn't let the Islanders seize control of the game, and over the final eight and half minutes of that period, the Rangers would score three more times, starting with Ryan Callahan's Johnny-on-the-spot goal into an open net, and ending with Bryan McCabe's goal off a feed from Vinny Prospal on a five-on-three advantage. (The special teams were the story of the night, not just for the three power-play goals, but for Brandon Prust's shorthanded goal. That's Prust fifth shorthanded goal of the year, by the way. By comparison, only two Rangers have more than five power-play goals this season.)
Also encouraging: Marian Gaborik played a strong game and was rewarded with two goals, both on Gaborik-esque shots through screens. (The quick release on the second shot was particularly impressive. If only he could play against the Islanders more often.) And Henrik Lundqvist came up big early in the game when the Rangers especially needed him to do so. (Probably not earning points with John Tortorella: Sean Avery, whose third-period penalty led to an Islanders power-play goal and a visibly annoyed Rangers coach.)
So with eleven games remaining, here's where the Rangers stand: Montreal lost, and remained in sixth place in the East, five points ahead of the seventh place Blueshirts. Carolina beat Buffalo (mercifully, in regulation), meaning the Sabres remain at 76 points, good for eighth in the conference, while the ninth-place Hurricanes moved to within two points of them. And then there's the red-hot Devils, who won again last night and sit in tenth place with 70 points, tied with Atlanta and Toronto. Next up for the Rangers: those Canadiens — a team they've yet to earn a point against this season — on Friday night.