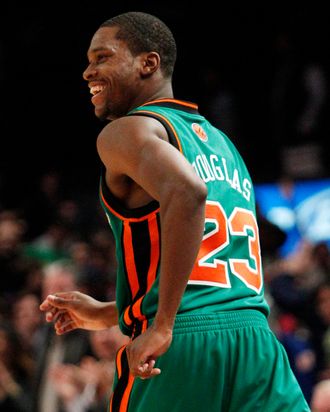 Photo: Frank Franklin II/AP2011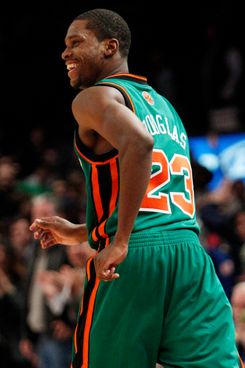 Over the past week, the Knicks dropped a game to Dallas and two more to Indiana — their longest losing streak of the still-young Carmelo Anthony era. Yet the complaints — perhaps amplified because of high expectations, or perhaps because the Nuggets had been winning so much since the trade — had already become familiar: The defense has gotten worse, and in general, the team hasn't really jelled yet. The latter is to be expected, of course (especially with Chauncey Billups missing time), but nevertheless, these are things the Knicks will need to work on before the playoffs begin. But enough about all that, for a day at least. The Knicks hit a franchise-record twenty three-pointers in a 120–99 win over Memphis last night, and that's pretty cool.
Leading the way was Toney Douglas, who hit nine of them to tie the franchise record for most threes by a single player. (To paraphrase a certain Knicks superfan, it's gotta be the neon-green St. Patty's shoes.) The Knicks moved the ball well: Over at Posting and Toasting, Seth points out that this wasn't like the game in Chicago back in November, when the Knicks "kept sinking one preposterous, ill-advised trey after another." They also played a bit of defense: On a night that Jared Jeffries got the start, Marc Gasol and Zach Randolph combined for just 21 points and the Grizzlies were kept under 100 as a team. And to quote Mike D'Antoni, putting the game in more general terms, they "stopped the bleeding."
Next up: The Knicks travel to Detroit to face the Pistons tonight. Sad to say, they won't be bringing Toney Douglas's bright green shoes with them. But they won't be bringing a losing streak with them either. That's probably more important.