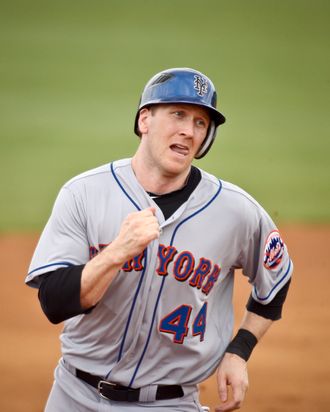 Photo: Ronald C. Modra/Sports Imagery/2011 Ronald C. Modra/Sports Imagery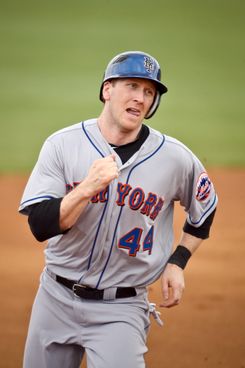 You don't say. Mets season isn't officially allowed to open until somebody gets hurt, and it appears we're all set on that front. While Carlos Beltran and his knees made their spring training debut yesterday, Jason Bay checked out with an injury of his own. Pending evaluation, Bay might have to open the season on the disabled list. From Mike Puma of the Post:



Bay, according to general manager Sandy Alderson, felt soreness in his left ribcage area during batting practice, leaving the Mets again to wonder when they'll see their $66 million left fielder.

The next stop for Bay could be the disabled list, pending an evaluation today. Bay was examined by team medical personnel yesterday in Port St. Lucie and scheduled for X-rays.

"At this particular time we have to be very cautious, because I don't want to lose this guy for a month," manager Terry Collins said after the Mets'$2 8-2 exhibition victory over the Nationals. "If we have to lose him for a week, 10 days, that's a hell of a lot better than losing him for two months."
As NBC New York's Josh Alper points out, this is becoming a sort of annual ritual for the Mets, who lost Jose Reyes and Daniel Murphy at almost this exact time last season. They just can't catch a break.
Meanwhile, Bay's absence could vacate the Opening Day left field slot for rookie Lucas Duda. If that ends up being the case, here's hoping the Mets do a little better than last year's at-bat music for the youngster. A suggestion. To the rest of the Mets: Stretch, eat your vitamins, and avoid trampolines.