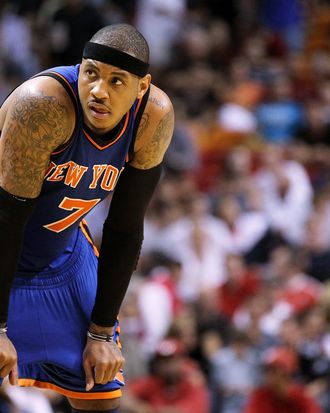 Photo: Mike Ehrmann/2011 Getty Images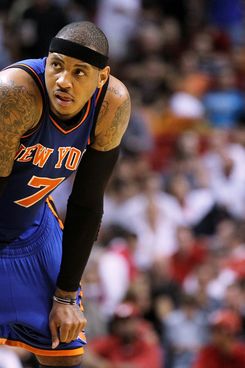 Mike D'Antoni's ever-changing rotation is now even more interesting as the playoffs near and a new-look lineup continues to find itself. As part of our Knicks coverage all season, taking a note from Mark Lisanti's "Mad Men Power Rankings," we've been tracking each player every Tuesday. Come with us for the Knicks Power Rankings!
1. Carmelo Anthony. (Last week: 1) The Knicks finally put their bleak, tedious slide to an end on Monday night against the Magic, due in large part to the kind of predatory ruthlessness we've been dying to see from Melo. Since perhaps his very first week in New York, Anthony's shooting has been intermittently excellent. There are entire quarters in which his bevy of box steps and feints is more than any horde of defenders can handle. Anthony perpetually teeters on the threshold between singular dominance and reckless heaving (future scholars might call this "Al Harrington Syndrome"), though, and moreover, New York has lost quite a few games already in which Melo got his from the perimeter. He's capable of so, so, so much more, and that's why Monday night's brilliance was simultaneously invigorating and infuriating. Melo shot the way he usually does — high volume, high output — but actually utilized his physical gifts to assert himself in other ways. He snatched rebounds out of the sky, raced to close out shooters, and overpowered Hedo Turkoglu and Earl Clark on both ends of the floor by just dialing up the physical exertion and wielding his inborn assets. That basic surge of will permeated throughout the rest of the squad, not to mention the fans in attendance. It's why folks were singing his name down the stretch, and it's probably why I awoke this morning with Diddy in my head. That last sentence was dangerously close to a Ke$ha lyric, so let's just agree that it'll be great if Carmelo Anthony can bring himself to replicate last night's grit more often and move on.
2. Amar'e Stoudemire. (Last week: 2) Well, that's settled. Amar'e is playing tired, maybe hurt. There's no doubt about it anymore. Boris Diaw and Kwame Brown torching him on Saturday is one thing; Stoudemire struggles to defend lots of folks, though those two are particularly unworthy of such dominance. His reluctance to dunk and shoot mid-range jumpers, though, is something else entirely. On Monday, he did most of his work off the dribble and finished near the rim, not upon it. Though he still managed twenty points on ten shots, Amar'e didn't appear to have confidence in his legs, particularly from the perimeter. It's hard to blame him, given that he made just four of twenty shots from outside ten feet on the week. That's part of the beauty of having a companion capable of shouldering the offensive burden (and more than willing to do so). As we saw promptly following the trade, if Stoudemire's off or just not incorporated, he can pick his spots on offense and concentrate on rebounding, finding teammates, and playing some defense. That last one could still use a lot of work, but again, he appears to be struggling on his feet. Three consecutive days of rest next week should do a body good.
3. Chauncey Billups. (Last week: 4) First of all, Chauncey appeared increasingly healthier and more comfortable this week. He took much better care of the ball (three turnovers in the last four games, fifteen turnovers in the four before that), created some things off the dribble, and looked a bit less pained in a defensive stance. However, what's still troublesome, injury or no injury, is Chauncey's affinity for the PUJIT. As Knick fans are coming to learn, "Mr. Big Shot" describes only a segment of his on-court presence. He's more like that cartoon bro from the Honda commercials, "Mr. Opportunity," who just can't pass up a good deal on a mid-size sedan or, one would imagine, a pull-up three early in the shot clock. Billups hits big shots (and he did so against the Magic), but that's partially because he takes pretty much every opportunity to do so. He's shooting a season-low 31 percent from downtown in the month of March.
4. Toney Douglas. (Last week: 3) Ever the wild card, Toney continued his trend of playing big minutes and launching a ton of shots in three of four games since we last spoke. Oddly enough, that other game was the one in Charlotte in which he supplanted Landry Fields as an experimental starting shooting guard, but played fifteen minutes and scored just five points. Save for the occasional night like that, Douglas has been super rowdy since the trade. He's up from 8.3 to 11.3 attempts per game post-All Star break and is thankfully connecting at a better rate (40 percent to 45 percent overall, 35 percent to 41 percent on threes). And hey, if you squint just a little bit, you'll see Douglas mixing some dribble penetration and pick-and-roll feeds in with his rampant shooting. Like it or not, Billups will undoubtedly be the guard as the playoffs approach, but Toney's increased (and improved) role off the bench shan't be overlooked.
5. Landry Fields. (Last week: 6) Two gems from an otherwise quiet week: (1) Landry's twelve free-throw attempts in the Charlotte game, which were a personal best by a long shot. We didn't know he had that in him. (2) Landry's hard-hitting analysis of Andy Rautins's ability to spit game. We totally knew he had that in him.
6. Ronny Turiaf. (Last week: 5) The ever-present fears about Ronny's "wobbly ankles" were mentioned last week, and right on cue, they wobbled. Turiaf missed the last two games with yet another minor injury to his foot-wrist. My practical side wonders if the guy can't play with a little more ankle support. A ski boot might do the trick. My infantile side is desperately searching for an Ankylosaurus joke. Both sides desperately wish Ronny would stay healthy.
7. Shelden Williams. (Last week: 10) Well, how about that! Last week, Shelden went from starting to DNP'ing in a matter of 24 hours (yeah, I said "P'ing"). This week, Mike D'Antoni found a happy medium for the doddering Dukie. Shelden played double-digit minutes off the bench in each of the last three games, with increasing success from one to the next. By Monday, he was matched up with Dwight Howard and, lo and behold, held his own against the hulking man-statue. She-Will doesn't move as shrewdly on offense as (a healthy) Ronny Turiaf, but he showed this week that he can make defensive plays, grab some rebounds, and finish a little when called upon. None of it looks even remotely cool, but it works. Great for Shelden.
8. Shawne Williams. (Last week: 7) As long as Turiaf is absent, Shawne will probably remain in the starting lineup. By nature of his size, the above "Williams" (or "Shwilliams") is a better interior defender, but in his press conference following last night's game, Mike D'Antoni explained the decision to start Shawne and bench Shelden thusly: If Shelden starts, he runs the risk of picking up quick fouls (which he did in that one game he did start) and leaving a gaping hole inside when Amar'e takes to the bench. Allowing Shawne to start saves Shelden for the second unit, and as D'Antoni explained, also spreads the floor for the starting lineup's happy scorers. Oddly enough, Shawne has shot much, much worse from downtown in his few games as a starter, but Coach's logic still holds water.
9. Anthony Carter. (Last week: 12) Apparently healthy and back off the bench, Carter saw legitimate minutes in each of the last three games, mostly as an extra guard in the second quarter. Carter was one of the few Knicks with a pulse during those early-week doldrums. The wrinkly li'l plum's boldness on offense and willingness to defend bigger gentlemen provided a major spark off the bench. He should continue to spin if healthy.
10. Jared Jeffries. (Last week: 8) The emergence of Shelden cuts into the playing time of New York's noodliest big man. Jeffries actually played a healthy 22 minutes on Monday, but he was down to single digits in the couple of games before that. Benching Jared diminishes the defensive presence (not to mention noodliness) a bit, but it saves us from a few nightmarish missed lay-ups every night.
11. Bill Walker. (Last week: 11) Big Billy the Bully Baller is back in the rotation, and he's doing what he can to stay in it. That means hitting his threes (2–4 on Monday), but also practicing all the basic feats of effort — driving, defending, rebounding — mentioned above regarding Carmelo Anthony.
12. Roger Mason. (Last week: 9) As in the gripping Williams vs. Jeffries case, one guard's rise marks another's fall. Walker's reintroduction to the regular rotation has coincided with Mason's descent into DNP-town (yeah, I said " P-town.") This could very well flip-flop next week if things go south and D'Antoni gets restless again. Stay tuned.
13. Derrick Brown. (Last week: 13) Nope, still nothing. His minutes may be few and far between, but Derrick's Twitter account is chock-full of neat aphorisms. That counts for something, right?
Inactive: Andy Rautins, Renaldo Balkman