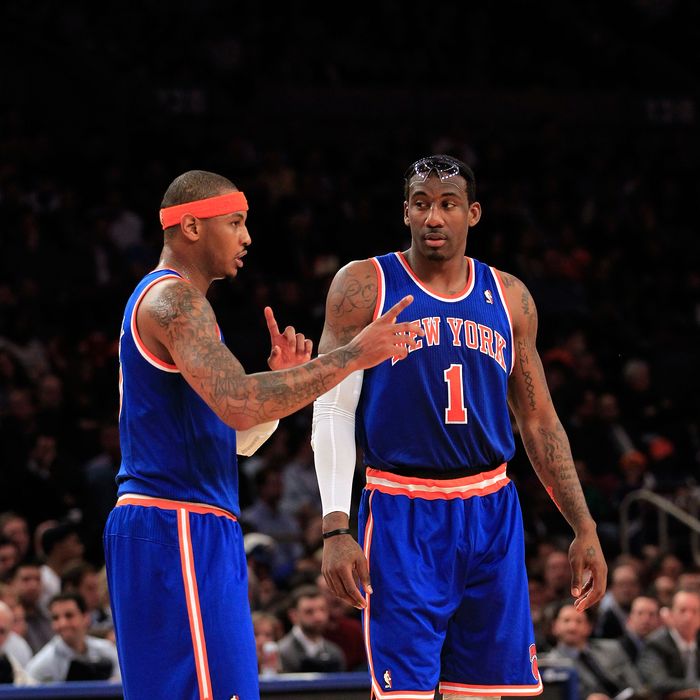 Photo: Chris Trotman/2011 Getty Images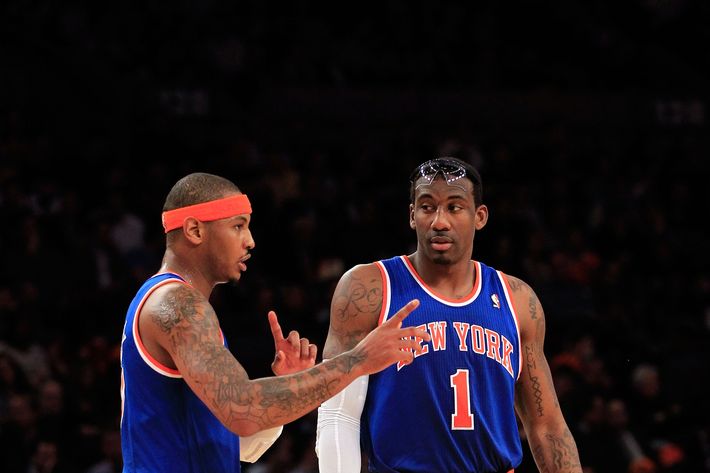 Mike D'Antoni's ever-changing rotation is now even more interesting as the playoffs near and a new-look lineup continues to find itself. As part of our Knicks coverage all season, taking a note from Mark Lisanti's "Mad Men Power Rankings," we've been tracking each player every Tuesday. Come with us for the Knicks Power Rankings!
1. Carmelo Anthony. (Last week: 2) Anthony gets the top spot this time around because he had one of the more interesting individual weeks in recent memory (and, after all, these are the "Knicks Interest Rankings"). The Knicks have played the camouflage game of late, and Melo is perhaps the most chameleonic of the bunch. In losing habitats like Indianapolis, Detroit, and Milwaukee, Melo and his Knicks blended right in. You couldn't even tell which team was below .500. Back at Madison Square Garden against winning teams, Anthony had two of his stronger games and helped lead New York to a victory over Memphis and a valiant outing (until they collapsed) against the Celtics.
Take, for example, the week's two extremes: On Friday in Detroit — a basketball city plagued by losing and folks not showing up to stuff — Melo threw the media into a tizzy by failing to make himself available to comment on his terrible 2-for-12 performance. Later, in a gritty Monday game drenched in the blood of Celtics (both Troy Murphy and Ray Allen opened wounds), Carmelo turned red as well. Camouflage! Seriously, though, the Knicks have played to the level of their competition, and none more so than Melo. He's been at his liveliest against the good teams and his most vacant against the bad. All the accusations of sulking and crimes against the print media are secondary to Anthony's on-court struggles, but the sooner he finds a groove, the sooner he'll silence those blustering buzzards.
2. Amar'e Stoudemire. (Last week: 1) Stoudemire, whose offense was solid, if uninspiring for most of the week, is back to being exposed on defense. Opposing teams have structured their entire attacks around Amar'e's defensive incompetence. Seriously, after I said last week that Amar'e "has too much pride" to let Tyler Hansbrough score his career-high, Hansbrough went out and did it again in the following game. Granted, that performance wasn't allowed solely by Stoudemire, but it was one of several recent examples of teams befuddling the big guy with a simple screen (also see Darrell Arthur's fifteen points on Thursday). We've seen Amar'e play stretches of inspired defense, so watching him double a ballhandler with the conviction of a moth (moths are notoriously flaky) or turn his back on a penetrating scorer gets Knick fans a little frothy. Stoudemire has the physical tools, not to mention the gravitas, to incite his teammates defensively, and again we've seen him do it. Now would be a good time to bring that back.
3. Toney Douglas. (Last week: 3) Toney's offense is very much the wild card in any Knicks game. Some nights, he looks confident handling the ball and deadly from the perimeter. An excellent three-game run early in the week included Thursday's barrage of nine three-pointers against the Grizzlies, which was among New York's most jaw-dropping displays of marksmanship since the advent of the three-point line (and jaws). Then, against Milwaukee and Boston, he shot a combined 5–20 from the field and just 1–7 downtown. On any given night, it's unclear whether or not we should do what Toney Douglas do. You're TEARING ME APART, Toney!
4. Chauncey Billups. (Last week: 4) Before his thigh injury, Chauncey spent four games overshadowing his unfamiliarity with the system and lack of synapse with his teammates by drawing a ton of fouls and hitting some eponymous Big Shots. Now that the balky thigh (which sounds like a Renaldo Balkman–initiated dance craze waiting to happen) is hampering his creativity a bit, the lack of chemistry is at the forefront. He keeps dribbling himself into trouble and, like Raymond Felton before him, is struggling through early attempts to run the pick-and-roll with Amar'e Stoudemire. If Felton (who is, by my estimation, a less poised passer than Chauncey) figured it out, then there's no reason Billups shouldn't be able to as well. In time for the playoffs would be nice, please.
5. Ronny Turiaf. (Last week: 8) Knick fans are clamoring for any sort of defensive presence inside, and Turiaf's terrific (make your own pun) first half against the Celtics was a reminder that he is capable of filling that role-hole. That's only if he stays healthy and out of foul trouble, though, and we know from experience that those are two size-48, caps lock, Arial Black "ifs." The fouling is one thing, but Turiaf's wobbly ankles might give way again at any moment, and there's nothing anybody can do about it. Maybe we should all grow beards or something?
6. Landry Fields. (Last week: 5) Landry's lost some minutes to the aforementioned wild card, but being the bigger dude, he still has a major defensive role as the guy tasked with bird-dogging opposing shooters through screens. He's getting better at guard-chasing day by day and didn't do a bad job of it in Monday's loss to the Celtics, holding Ray Allen to just 5–16 shooting (though Allen's facial desanguination might have had something to do with that).
7. Shawne Williams. (Last week: 7) Again, Extra E is one of the few guys who hasn't missed a beat since the big trade. Each night, he's good for a smattering of stout defensive plays, half a dozen rebounds, and a few three-pointers (the miscreants at P&T might call that "a handful of poop") off the bench. Shawne's rarely sensational, but regularly solid (we'd probably find a poop joke in there, too).
8. Jared Jeffries. (Last week: 6) The rap on Jared has long been that the better the team plays, the better he looks. That sounds obvious, but there's something to it. Jeffries isn't a virtuoso one-on-one defender, but as part of a unit that's willing to scramble, his smarts and ability to cover multiple positions make him an asset in D'Antoni's switch-happy system. Lately, though, the rest of the Knicks aren't defending much, so fans are a bit peeved with this loping man-phasmid who shoots three-pointers off the side of the backboard.
9. Roger Mason. (Last week: 10) Hey, can we get a quick round of applause for Roger? He's not shooting the lights out or anything, but after failing to hit a three-pointer in limited minutes through the season's first four months, Mason is a perfectly respectable 12-for-27 from downtown in March. It's a relief to see Roger, who by all accounts never hung his head while riding the bench, making an impact.
10. Shelden Williams. (Last week: 7) This past week, Mike D'Antoni's approach to She-Will went from not playing him at all to starting him in Milwaukee to going all "I've made a huge mistake" when that didn't work and jettisoning him right back to the bench. Poor, sweet Shelden.
11. Bill Walker. (Last week: 11) It really seemed like Bill would work his way back into the rotation, but Fields's unmitigated Landriness, Roger Mason's solid play off the bench, and the reliability of Shawne Williams has left Walker the odd swingman out.
12. Anthony Carter. (Last week: 9) Also bearing the brunt of D'Antoni's rotational caprices is Carter, who was originally rumored to be a DNP because he was suffering from some sort of sickness. Unless there's some affliction we haven't heard about ("the Itis," perhaps), Anthony's continued absence appears to be nothing more than Coach's Decision. With Billups struggling, though, Carter might work his way back into the rotation at some point.
13. Derrick Brown. (Last week: 13) There have been times when a decently sized youngster with jet packs for legs seemed like just the ticket to lift the Knicks' sagging energy and feckless defense. No such luck for Derrick, though. It's hard to blame him for being bummed about this whole deal. The opportunity could arise at any moment, though.
(Inactive: Andy Rautins and Renaldo Balkman. This seems as good a time as any to suggest that The Andy & Landry Show be revamped to include Renaldo. Why on earth not?)