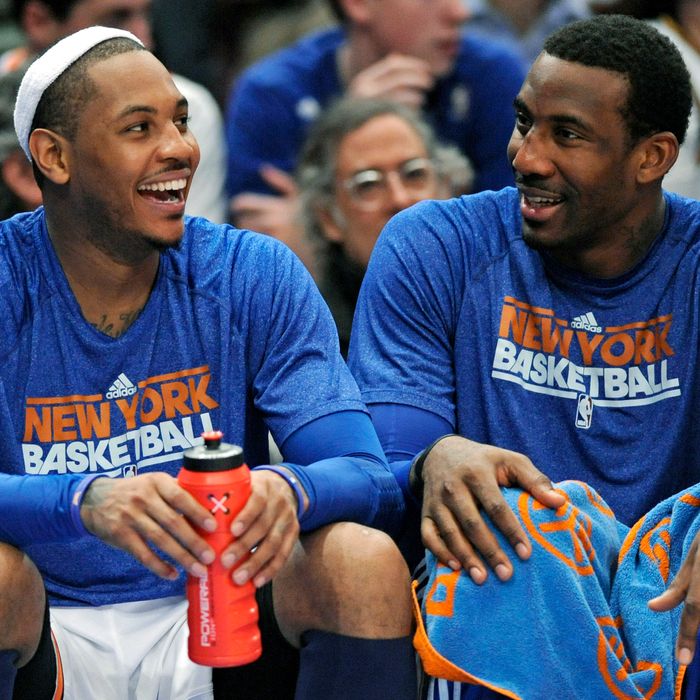 Photo: Bill Kostroun/AP2011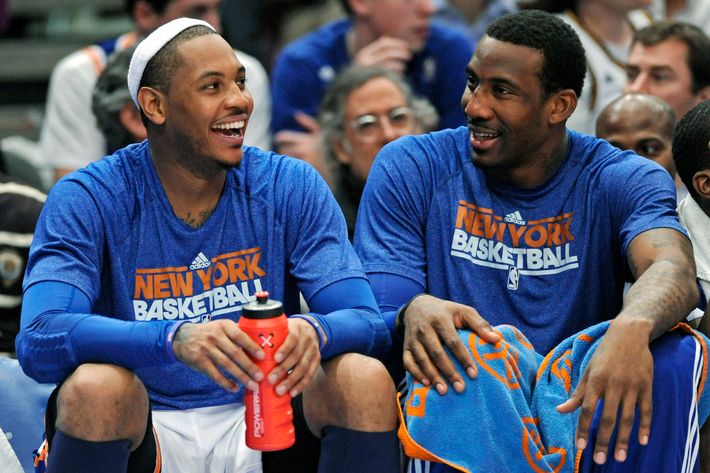 Mike D'Antoni's ever-changing rotation is now even more interesting as a slew of newcomers continue to settle in. As part of our Knicks coverage all season, taking a note from Mark Lisanti's "Mad Men Power Rankings," we've been tracking each player every Tuesday. Come with us for the Knicks Power Rankings!
1. Amar'e Stoudemire. (Last week: 3) In week one of the new-look Knicks, Stoudemire took a rare back seat to his new friends from Denver. During a busy week two in which the Knicks went 3–1 against above-.500 teams and 0–1 against those meddling Cavs, things shifted a bit. As Carmelo Anthony and Chauncey Billups settled in (or, in Chauncey's case, shambled out), Amar'e reasserted himself as the first unit's first option. He's learning to exploit the attention drawn by the additional scoring threats, turning the widest-open looks he's seen as a Knick into efficient production from the perimeter. That mid-range jumper has really become the rock of the New York offense, particularly since the trade, and it puts the opposition in a royal pickle. Defenders just can't afford to abandon Amar'e on the perimeter, lest he stab them with his silky daggers (which is both a questionable metaphor and an excellent band name). So long as the ball is moving, it's either opportunities for others or open looks for Amar'e: Pick your poison.
2. Carmelo Anthony. (Last week: 2) Much of the moving-in process for Carmelo is learning to embrace the above. The effectiveness of his isolation offense, both on the move and from his office on the right elbow, vacillates between unconscious swishing and unconscionable bricking. (See Monday's 12–16 showing for the former and Sunday's 6–18 outing for the latter. Those who see two rims shan't heave jumpers. That's a proverb, isn't it?) Those solo efforts aren't going away, nor should they, but Melo is gradually coming to realize that he needn't work so hard to create his own offense. Not only can he benefit the team by creating looks for others (twelve assists in the last two wins over Utah and Atlanta), but his willingness to make moves without the ball can earn him incredibly easy looks. For the most part, the aforementioned magnetic pull of Stoudemire, coupled with New York's stable of outside threats, should grant (and has, at times) Anthony the chance to cut and post up against single coverage more frequently than ever before in his career. For a scorer and foul-drawer of his caliber to have those opportunities off the ball is just as deadly as any of the magic Melo can provide in isolation.
3. Toney Douglas. (Last week: 5) With Chauncey Billups sidelined, this week was Toney's opportunity to complete the offensive triangle (not to be mistaken for a triangle offense) with Amar'e and Melo. Given Chauncey's importance, that was a difficult vertex to fill, but TD acted the part with aplomb. His distributing was solid, if unspectacular (23 assists to eight turnovers in four games as the starting point guard), as he stuck to routine, comfortable passes to open shooters and the occasional cutter. If you're looking for spectacular, look no further than Toney's shooting in the two blowout victories over the Hornets and Jazz. In both games, he got to splashing right from tip-off and ended up with brilliant lines of 10–13 from the field against the New Orleanians (including 4–6 from downtown) and 6–9 (5–7) against the erstwhile New Orleanians. The Knicks won three of four games with their understudy point guard, so Toney deserves a hearty round of applause for his efforts.
4. Chauncey Billups. (Last week: 1) Though the Knicks played ably without Chauncey (and, in doing so, allowed him ample time to rest his bruised quadricep), they'd like him back pretty soon. The game in Orlando was already pretty much lost when Billups took a Dwight Howard knee to the gammon, but Big Shot-san's performance alone was what kept that game even remotely close in the second half. His twenty free throws (eighteen of which he made) were a career-high, and for all of Toney Douglas's excellence, he can't match that ability to conjure individual offense in the absence of teamwide continuity. When things get ugly, you want Chauncey on your side.
5. Jared Jeffries. (Last week: elsewhere) Welcome back, Jared! Much of Jeffries's first stint in New York was spent marveling at how this exclusively defensive-minded stick figure might operate in a winning D'Antoni system, and it's been pretty splendid so far. The offense hasn't changed: Fumbled passes and blown layups from practically inside the basket suggest that he should continue to avoid the game's finer endeavors. His defense, though, is a massive addition to this team. Either as a fidgety individual defender or as the anchor of an occasional zone defense, Jared's ability to rapidly cover ground in a flurry of slapping, poking, and flailing was a key component to much of New York's winning this past week. With Ronny Turiaf perpetually beset by one injury or another, Jared's prowess for disruption will likely earn him a starting spot, and rightfully so. If he could only convert a basic layup (or hey, dunk it! You're seven feet tall!), he'd be pretty much perfect for that first unit. Either way, it's great to have Jared back. (Note, it just dawned on me that the use of the word winning might be misconstrued as a Charlie Sheen reference. It is not. One butthead's ramblings do not buy him the rights to an entire word, unless that word is butthead.) [Editor's note: Thank you, Seth.]
6. Landry Fields. (Last week: 4) Landry's role in this new rotation is pretty clear: Hit open corner threes, drive when there are lanes, and defend the opposing shooting guard. Landry's proficiency at the first two comes and goes (for the week, he was 7–18 on predominantly uncontested threes), but his floor defense is improving. He did as well as a man (I hesitate to even call him a "rookie" anymore) can do against the deadly Joe Johnson and was otherwise active all week in his shot contests and defensive rotations. Landry's role as "glue guy" means that on any given night, he could grace the leaderboard in scoring, rebounding, or useful defensive plays. Whatever the Knicks need, Fields provides. It's the Landry way.
7. Shawne Williams. (Last week: 8) Here's a fun statistic: Williams shoots 49 percent from downtown in wins and just 38 percent in losses. Extra E's 4–6 outside outings against New Orleans and Atlanta were instrumental in building those double-digit margins. Also, Shawne's probably pretty excited that Jared Jeffries is in town and he won't be forced into the center position quite as often.
8. Anthony Carter. (Last week: 9) Anthony's hot shooting over the weekend was probably an exception to the norm (a 1–7 evening on Monday may have been the reminder of that), but he's good for a handful of meaningful plays each time he shuffles off the bench. He's a useful ball-handler and passer and also a maven at wresting possession away from bigger, more athletic players (i.e. everybody). It seems like he'll be a regular in the second unit.
9. Ronny Turiaf. (Last week: 6) Ronny's intermittent aches and pains are mitigated by the addition of Jared Jeffries, and he'll probably surrender his starting spot even upon returning. That said, the Knicks need all the interior defense they can get, so it would take more than the occasional sore knee to keep Turiaf out of the permanent rotation.
10. Roger Mason Jr. (Last week: 11) Roger got chanted off the bench during that blowout victory over New Orleans and ended up sticking in the rotation while Bill Walker nursed a sore knee. In three games this week, he shot decently from outside, defended here and there, and avoided disaster in stints as the chief ball-handler. None of the above demands that Mason earn regular minutes, but D'Antoni works in mysterious ways.
11. Bill Walker. (Last week: 7) Bill's minutes dwindled a bit even before he, too, was sidelined with a sore knee. With Shawne Williams shaking out of his slump a bit and Mason suddenly in the picture, a lingering injury might make it all too convenient for D'Antoni to leave Bill on the bench. As the playoffs approach, we'll probably get a better sense for the coach's ideal second unit. Walker is one of several guys who sits on the threshold of receiving regular minutes when it counts. It's entirely possible that Williams's size and Mason's playoff experience move them ahead of Bill as the team's back-up marksmen.
12. Shelden Williams. (Last week: 13) She-Will demonstrated an uncanny ability to draw fouls in his two extended appearances against Cleveland and Utah, and he'll probably serve as a utility big man in instances of foul trouble or injury going forward.
13. Derrick Brown. (Last week: elsewhere) Derrick's another guy with some skills to offer (he's made it abundantly clear that he can jump quite high and dunk quite hard), but the end of the rotation is, as you can see, pretty crowded. He'll really have to show something in practice to bounce his way into regular minutes after being signed just last week.
14. Renaldo Balkman. (Last week: 10) Humpty probably won't receive meaningful minutes this season, but he's as wonderful a human victory cigar spliff as they come. If you saw him gleefully heaving three-pointers (including one make that was followed by a salute to the crowd) or hanging on the rim to tip in his own missed dunk (which was plainly illegal) in Monday's garbage time, you probably got the feeling that he embraces that role. You should too. If Renaldo's spinning, the Knicks are winning.
15. Andy Rautins. (Last week: 12) Andy, like Roger Mason, has a name perfectly syllabized for late-game chanting (or should I say "LATE-game CHAN-ting" [clap clap clap-clap-clap]). Per the crowd's request, he saw the floor for the first time in over a month during Monday's extended garbage time, and looked … well, exactly the way you'd expect a guy with a whole month's rust and 20,000 people chanting his name might look. No worries, though. It was great to see Andy appreciated on his home court, and even greater to see his name occupy the "Trending Topics" section of Twitter for a while on Monday night.