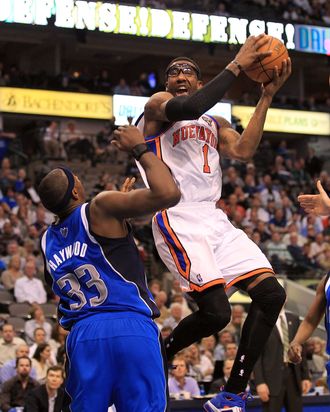 Photo: Ronald Martinez/2011 Getty Images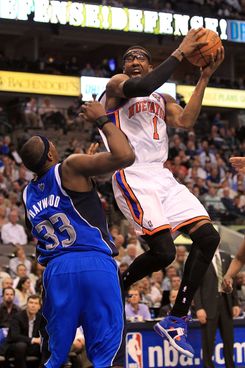 Mike D'Antoni's ever-changing rotation is now even more interesting as the playoffs near and a new-look lineup continues to find itself. As part of our Knicks coverage all season, taking a note from Mark Lisanti's "Mad Men Power Rankings," we've been tracking each player every Tuesday. Come with us for the Knicks Power Rankings!

1. Amar'e Stoudemire. (Last week: 1) This week in Knicks basketball included a narrow, exciting escape from a Memphis comeback followed by two pretty drowsy losses against the Mavericks (it happens) and Pacers (it really shouldn't happen). Mike D'Antoni's men looked a little hung over after that rousing win, and part of it could have been the effects of a hobbled Stoudemire (call him "Hobblemire" at your own peril). Two harrowing moments saw Amar'e turn his ankle at the beginning of Wednesday's fourth quarter, then suffer another "stinger" in his shoulder on Thursday. Each setback sidelined him for no more than a few minutes, but he was visibly picking his spots against the Pacers (more so than usual), and kind of let Tyler Hansbrough and Roy Hibbert eat him alive. His defense wavers, but a fully healthy Amar'e has too much pride to let a charged-up slug like Hansbrough score his career high. At least that's what we're telling ourselves after a couple pretty disastrous defensive outings. Either way, Knick fans just hope and pray* that Stoudemire keeps his various limbs in order as the playoffs near. If it means a few weak efforts or, hell, even a missed game or two between now and then, so be it. There's no doubt that a fully healthy Amar'e will give it his all on the big stage … right?
*(And sacrifice one juvenile goat to the basketball gods during each full moon. You guys are doing that, right?)
2. Carmelo Anthony. (Last week: 2) Much of the allure of the Stoudemire-Anthony pairing was the idea that each would command double teams and create open looks for one another and teammates. We've seen some brilliant synergy at times, but for the most part, defenses are taking their chances with single coverage. Particularly in Melo's case, opposing teams tend to just trot out their best wing defender and hope for the best (this week, he saw Tony Allen, Shawn Marion, and Dahntay Jones: all very able stoppers). Anthony is perfectly capable of scoring over single coverage (just ask Tony), but coaches have decided that getting a hand in his face and hoping he doesn't catch fire is the most palatable poison. Melo's prone to off nights from the perimeter, and even if he's on, you limit other options and relegate the rest of the Knicks to standing and watching. What Anthony has demonstrated, and must continue to learn, is that he's deadliest and most likely to draw help when he's catching the ball in motion. Working off cuts and screens can get him easy back-to-the-basket looks, and it also opens up shots for others when defenders get caught. Melo can be intermittently effective when isolated in the corner, but he's a consistent menace on the move. That's undoubtedly a point of emphasis after two losses full of woeful stagnation.
3. Toney Douglas. (Last week: 3) Following a startlingly adroit run of six games as the starting point guard, it was curious that Toney's first minutes off the bench were alongside the returning Chauncey Billups. Douglas isn't known for his play-making, but after brilliant shooting and 41 assists to just eleven turnovers over his stretch as the point guard, why not let him spin at the one spot against Indiana? Toney has proven to be the kind of guy who benefits from a hot start, so it was odd to see him so suddenly thrust back off the ball in his first reserve minutes in almost two weeks (particularly with Anthony Carter sidelined by a touch of the flu). He opened his evening off the mark and went on to shoot just 1–8 from downtown and 1–12 overall.
4. Chauncey Billups. (Last week: 4) Back in the lineup after a six-game absence, Chauncey and his still-bruised thigh were not in fine form against the Pacers. He shot just 4–14, including 0–7 on some seriously ill-advised three-point attempts. One of Billups's calling cards is remarkable accuracy to justify his sometimes kooky shot selection, but until his legs are fully under him, he might want to rein it in a little. Do remember that the guy played only four games with the Knicks before Dwight Howard's ballistic knee put him in street clothes. The gelling process is still very much in session.

5. Landry Fields. (Last week: 6) Though he saw unusually few minutes against the Pacers, Fields quietly had two of his brightest post-trade outings in Memphis and Dallas. He flirted with a triple-double in the win over the Grizzlies (sixteen points, six rebounds, and six assists is pretty flirty, no?) and nabbed four steals to go with his nineteen points and six boards against the Mavericks. That corner three is going to be Landry's primary weapon come playoff time, but it was wonderful to see him make baskets off the dribble and in transition as well. This was probably the Landriest week since the trade deadline.

6. Jared Jeffries. (Last week: 5) The defense is great, Jared. It really is. Why oh why, though, must you shoot lefty layups so often? We've seen enough sinister misses to know that off-hand finishes aren't Jared's strong suit. It's a truly puzzling trend, and it's wasted some rather snappy entry passes from Jared's teammates. I used to have an ambidextrous tennis teacher who'd play folks with his slightly weaker left hand, then bet them he could beat them righty and wallop them out of some cash. I like to imagine that Jared's curious leftward preference is a sort of misguided version of that con.
7. Shawne Williams. (Last week: 7) It's pretty great that the one guy who came into training camp with a troubled past and some character questions has become such a steady, reliable contributor off the bench. Extra E continues to hit the three, and he's also stepped up his shot-blocking quite a bit since the trade. If there's one habit Shawne needs to either perfect or eliminate, it's shooting off the dribble. Williams is a far better shooter off the catch than off the bounce, and it's usually unnecessary for him to try and create for himself with Anthony, Stoudemire, Billups, and Douglas running the show. Good going, though, E.
8. Ronny Turiaf. (Last week: 9) The fuzzy one has been quiet since the trade (and, interestingly, since trimming his beard), providing just the occasional rebound, defensive play, or foul in a dozen or so minutes per game. It leaves one to reminisce about those early games when Turiaf's passing was such a pivotal offensive cog. Applause for Ronny, though, for being the lone Knick to show some enthusiasm during that Indiana loss. A forced turnover in the backcourt got Turiaf hooting and beckoning the crowd to wake up, and it momentarily seemed like the Knicks might make a run. We know how that ended up, but credit is due nonetheless.
9. Anthony Carter. (Last week: 8) Uhh, it was kind of a silent week for Carter, so how about a little background on Anthony's compelling journey to the NBA? If you didn't know Carter played college ball at Hawaii, you might have been a bit put off by his tribal armband tattoos.
10. Roger Mason. (Last week: 10) Roger's awareness as a help defender has stifled a few opposing plays, but his offense isn't particularly fruitful when his shot isn't falling. An off week probably won't bump him out of the rotation entirely, but he might fall below the bigger, rowdier Bill Walker if current trends hold.
11. Bill Walker. (Last week: 11) Bill the Bully is back from injury, and he drained both of his threes in the loss to Indiana. Again, he's got a considerable size advantage on Mason, who is his main competitor for that utility swingman role. Supplement that shooting with some aggression on defense and on the glass, and Bill should have a consistent spot back.
12. Shelden Williams. (Last week: 12) She-Will was a DNP-CD thrice this week, including Tyler Hansbrough's career night. To be fair, Shelden has a bit of a history of getting dominated by the Hans-bro.
13. Derrick Brown. (Last week: 13) Derrick also might have aided the Knicks' struggling interior defense, but Mike D'Antoni appears rightfully set on focusing those guys who will contribute in the playoffs instead of incorporating new folks. If only that first line would focus.
Inactive: Andy Rautins, Renaldo Balkman (alas, no blowout wins means no "An-dy Rau-tins" chants or appearances for the Human Victory Spliff).