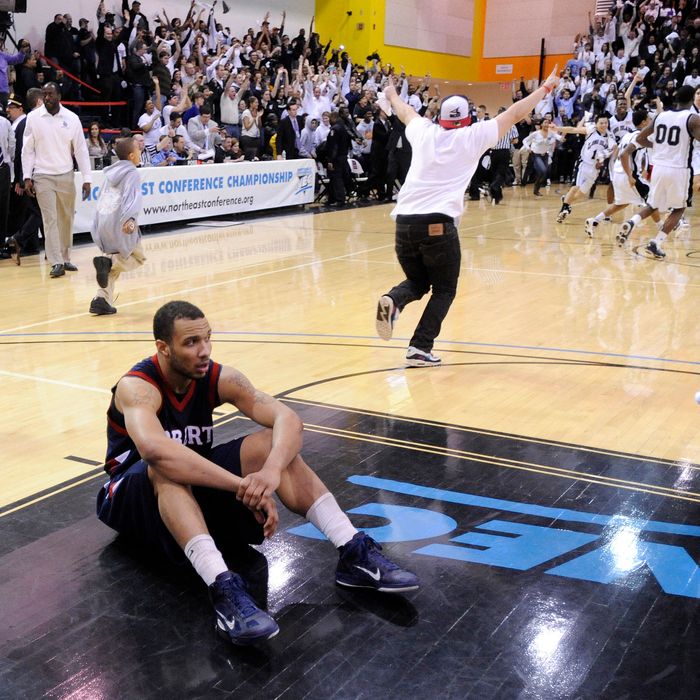 Photo: Bill Kostroun/AP2011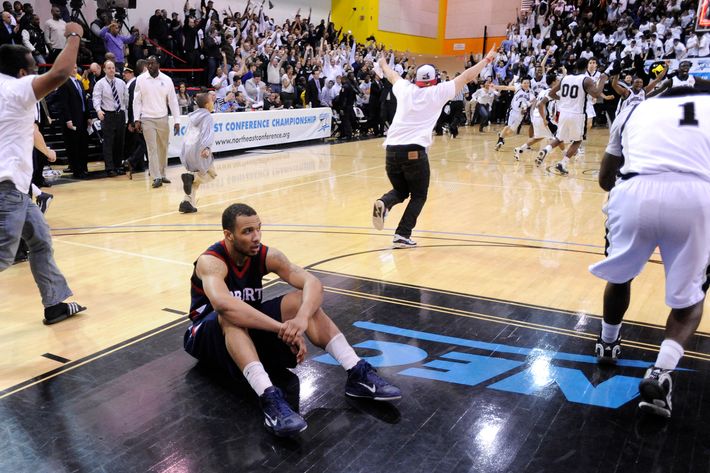 Ironically, the ecstasy of rushing the basketball court does not happen when you actually reach the floor, packed into an amoeba that surrounds players so happy they will hug anyone. Let's clarify that: What happened last night off of Flatbush Avenue at Long Island's Wellness Recreation and Athletic Center — "the WRAC" — was so much more than your typical court-rush. Fans were there for that most singular of sports moments, unique to the calendar and unique to college basketball: winning a do-or-die game in March that puts your team into the NCAA Tournament. But even more than that: doing it in front of the home fans and a national audience that is watching on ESPN2 for precisely that rush-the-court emotion.
For LIU, it would be even more special: The team hasn't been to the NCAA Tournament since 1997, when Brooklyn streetball legend Charles Jones led a high-scoring team of locals to national prominence. In 1998, hosting this same win-or-bust game at LIU's fabled old Paramount Theater, they lost a heartbreaker to Fairleigh Dickinson; I was there for that one.
Fast forward thirteen years: new gym, same emotions. I was in the front row under the basket, rabid alumni shouting directly behind me, with a chorus of ESPN-mugging LIU students behind them, drowning out the visiting Robert Morris pep band and the LIU PA announcer, without distinction.
But let's return to the court-rush.
I have never run with the bulls in Pamplona, but I imagine the feeling is similar: The real chemical and psychological high is that nanosecond just before you run.
And that's where we were: With 0.8 overtime seconds for Robert Morris to get off a game-tying three, my attention was on the group of students next to me, lined up on the bleacher stairs. They were so ready, jiggling and joshing, barely able to contain themselves. The single police officer there to prevent — well, I'm not quite sure — was more bemused than anything.
College basketball's small-conference, we're-going-Dancing, rush-the-court experience is one of the defining sports moments of the year. What is happening at Madison Square Garden today for the Big East, with its eleven NCAA Tournament teams, cannot compare, because for all the talent and all the prominence, they are all secure knowing, win or lose, they are playing next week. Call it "March Innocuous."
For LIU (and for Robert Morris, which won the Northeast Conference tournament title a year ago), this is it. The players and fans both know it. Losing relegates you to a level of obscurity that can be compared to being on the twentieth page of a Google search.
Winning means ESPN highlights and Sports Illustrated coverage and seeing your school's name on the NCAA Tournament bracket that will be downloaded or printed out half a billion times in the next week. It doesn't even matter that no one will pick the winner of the Northeast Conference to advance past the first round (although Robert Morris came within a whisker of upending Villanova last year).
What matters is this moment of national relevance. No matter what your natural team allegiance, when you watch the small-conference champion clinch their ticket to the Big Dance and you watch the students celebrate, you vicariously feel amazing. "We are all LIU fans."
And so in that last fraction of a second, I was watching the students, not the shot. That nanosecond where you see two futures: one an epic disappointment, one the greatest moment of your life as a sports fan.
Then, this:
Dan Shanoff is the founder of Quickish, a new sports-news recommendation service.