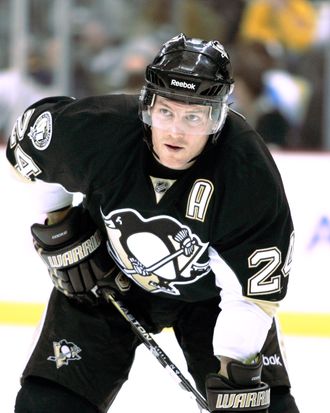 Photo: Justin K. Aller/2011 Justin K. Aller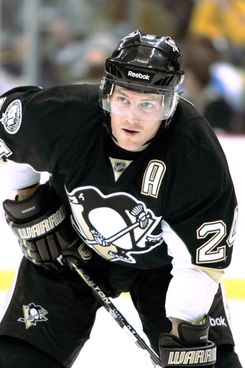 Matt Cooke met with NHL officials in Toronto yesterday — we'd like to imagine it went down exactly as Down Goes Brown's "top secret transcript" said it did — and the league doled out what seems like a pretty reasonable punishment for his elbow to the head of Ryan McDonagh: a suspension for the remaining ten games of the regular season and for the first round of the playoffs. Cooke, to his credit (we guess), didn't even try to defend himself in Toronto this time.
Via the Pittsburgh Tribune-Review:

Cooke, who has been suspended five times overall and four in three seasons with the Penguins, has defended himself in previous disciplinary hearings with NHL Hockey Operations. He didn't take that tact Toronto yesterday.

"In the past, I've been very defensive and have argued my point," he said. "The (Players Association) talks, they argue their point; and your agent gets on and defends you a lot.

"I realize and understand more so now than ever that I need to change. That was what I wanted my message to be."
Obviously, decide for yourself whether you think Cooke really intends to change, or whether that's just what one says in situations like this, particularly when one's owner just days earlier sent a proposal to the league under which teams would be fined when their players are suspended (and under which those fines would be doubled if the player is a repeat offender). But the bigger question, raised by Puck Daddy and others already, is whether this lengthy suspension is an indication the league is getting serious about punishing such dirty hits, even if it means punishing, in Greg Wyshynski's words, "a less convenient defendant" than Cooke.
We can't know the answer to that yet, though it's safe to say that no matter what, this punishment was especially heavy because Matt Cooke is, well, Matt Cooke. (After all, few players have Cooke's body of work in the field of dirty hits.) In any case, Cooke will go away for a while now. Meanwhile, McDonagh, who returned to the game on Sunday after the elbow (and reportedly heard from Cooke via text at some point afterward), says the pain in his jaw is subsiding. He's been cleared to play when the Panthers visit the Garden tonight.