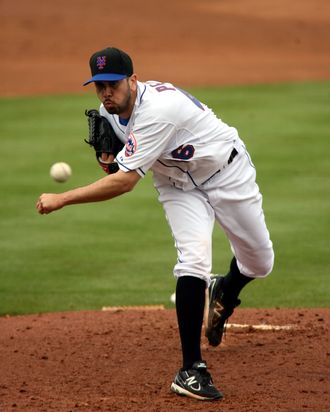 Photo: Marc Serota/Getty Images/2011 Getty Images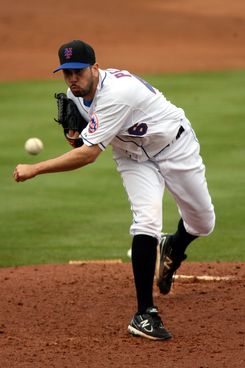 Let it go down in the history books (the ones that include spring training results, at least) that in his last appearance in a Mets uniform — in Saturday's split-squad game against the Nationals — Oliver Perez threw two thirds of an inning, allowing back-to-back home runs and a walk to a left-handed batter in what he called at the time "just one of those days." Perez won't have any more of those days, however, not for the Mets at least, as they released him today, just as they did with Luis Castillo (who's now essentially on a tryout with the Phillies) on Friday.
The Mets still owe Perez $12 million for this season — the last of his three-year, $36 million contract — but like Castillo, his exit means one less symbol of the Omar Minaya days hanging around the clubhouse. Perez wasn't likely to contribute much this season anyway, but if nothing else, his departure — along with Castillo's departure — makes the Mets' roster a little more likable in 2011. They'll struggle to compete in the National League East all the same, but at least fans won't have quite so many reasons to boo on Opening Day this year.
Here, by the way, is the News' description of Perez's exit from the stadium today:

After his meeting with Mets brass, Perez, still in his street clothes, went through the clubhouse, telling teammates the news and shaking hands. At one point, he spoke briefly on his cell phone. A few minutes later, someone drove a gray Toyota Camry up near the exit of the Mets clubhouse and Perez got in and was driven away.
Drive away, gray Camry. It's for the best.
Previously: Mets Fans Won't Have Luis Castillo to Kick Around Anymore [NYM]