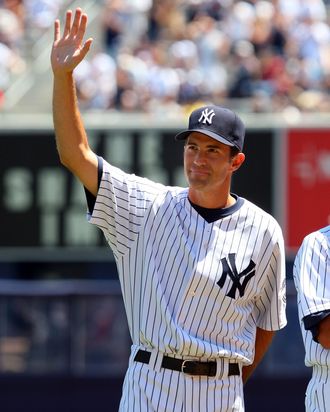 Photo: Jim McIsaac/2009 Getty Images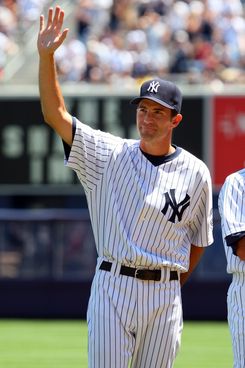 The Yankees, much like Mariah Carey, like to get a little festive for Opening Day. Not that folks need any help getting excited for the return of baseball, but it's good fun for the whole family. This year, the festive festival of festivities will include lengthy introductions, celebrity singers, and … Mike Mussina! From a Yankees press release, via D.J. Short of NBC's HardballTalk blog:



The ceremonial first pitch will be thrown out by five-time All-Star Mike Mussina. It will mark the first time that Mussina, who will be honored with the "Pride of the Yankees" award at the 2011 Homecoming Dinner on Wednesday night, will throw out an Opening Day ceremonial first pitch. He will become the 10th former Yankees player to be bestowed the Opening Day honor.
As Short mentions, Mussina is 42 years old, but that doesn't mean the Yankees aren't all like, "Hey, we know it's ceremonial and all, but you could try throwing it really hard and maybe we could clock it to see how fast it goes and maybe you could wear this jersey and come back in a few days and throw another pitch or two or 80, eh?" If they're not surreptitiously auditioning the guy, then it might be more exciting to have Mussina sing "God Bless America" during the seventh inning stretch and let "Michael Minarik of the Broadway hit Rock of Ages" throw the first pitch. That maximizes entertainment potential, if you ask me.
Seriously, though, it's a swell gesture and an excellent chance to catch up with a beloved former Yankee. Opening day is so close! SO CLOSE!