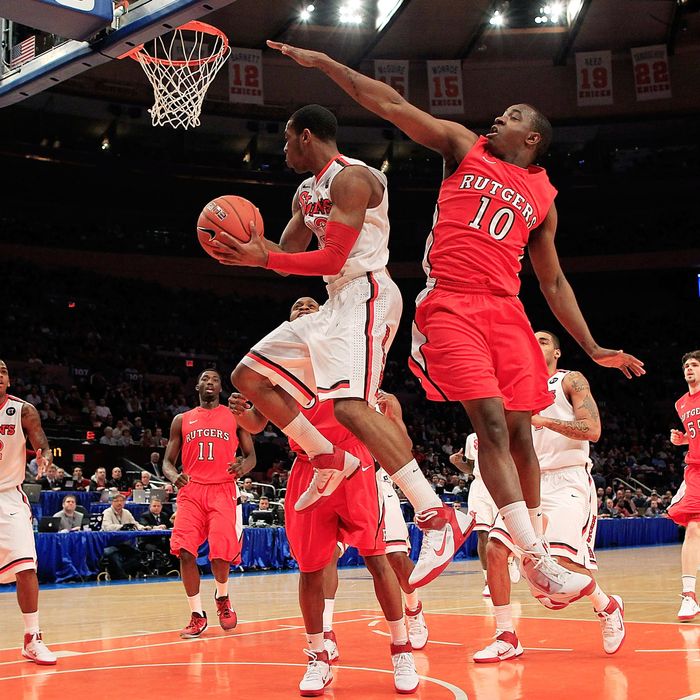 Photo: Chris Trotman/2011 Getty Images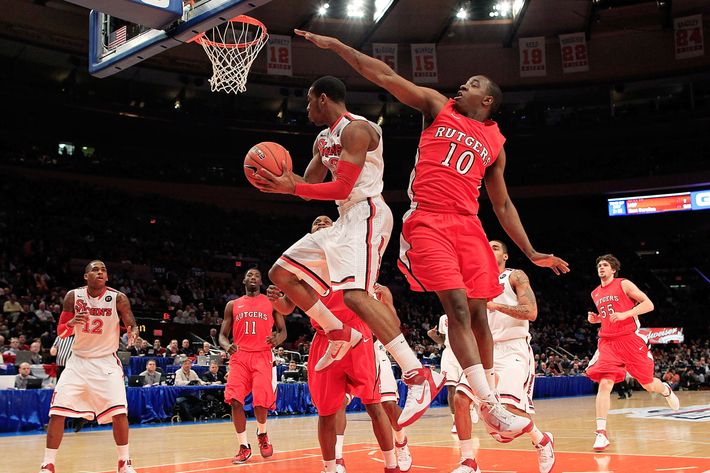 The three referees that worked yesterday's St. John's-Rutgers game — the ones who didn't blow their whistles when Justin Brownlee ran toward the sideline and stepped out of bounds with time remaining on the clock — have voluntarily withdrawn from the Big East Tournament. In a statement, Big East commissioner John Marinatto said they did so "in the best interests of everyone involved — including coaches, student-athletes, game officials and Big East member institutions." That's probably a wise decision, one that will keep their mere presence from potentially overshadowing a game. And speaking of admirable responses to the situation, let's say a few words about Rutgers coach Mike Rice.
Here's what this blog wrote about Rice last year, upon watching him coach Robert Morris during our NYC College Hoops Road Trip visit to LIU: "He's a dictionary illustration of the sweaty, hyperintense coach who wears a suit jacket only to throw it to the floor in frustration five minutes in." (Incidentally, now that this bit of court-storming goodness has happened, that game becomes only the second-most-significant LIU-Robert Morris game this site has covered.) Obviously, there's nothing inherently wrong with a coach showing emotion. But in his press conference after the game, Rice remained levelheaded: He referred to the refs in question as "three great officials" who made a mistake, never appeared to seek any sympathy, and even got a couple of laughs. (Our favorite line, on how he thinks he might have reacted had he known how much time should have remained on the clock: "I might have literally done a Van Gundy and held one of their legs on the court.") Here's video from that press conference:
Perhaps Rice understood that the refs didn't necessarily steal the game from his team; they merely denied them one last chance to stay alive. Perhaps he realizes that screaming and pointing fingers won't bring the teams back on the court to play those 1.7 seconds. But in any case, we'd like to think this is all behind us. And so back, now, to basketball: St. John's tips off against Syracuse shortly in the tournament quarterfinals. Get psyched.
Officials withdraw from Big East tourney [ESPN New York]