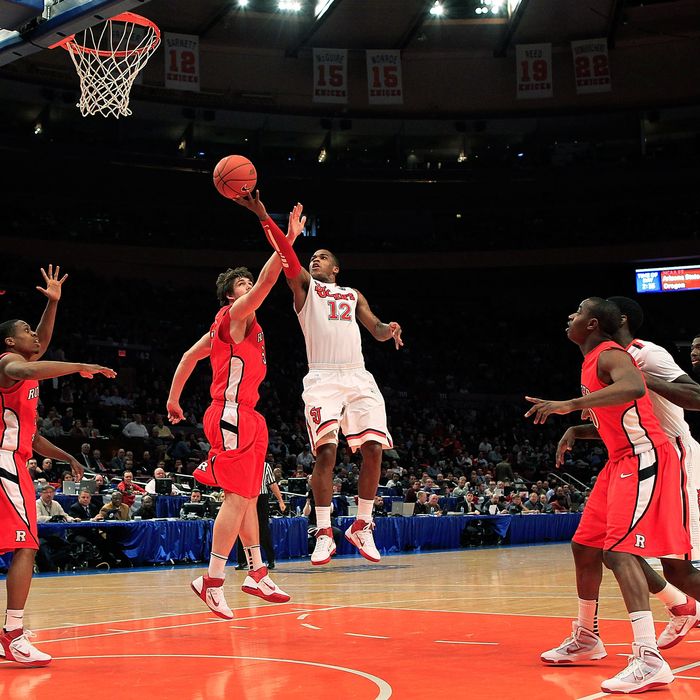 Photo: Chris Trotman/2011 Getty Images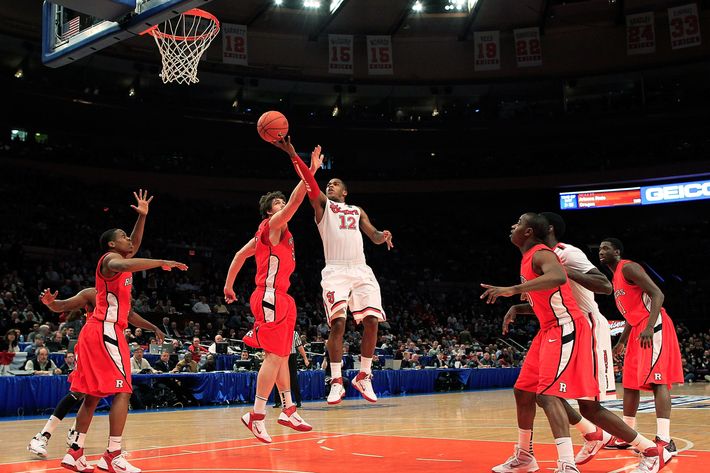 St. John's had reason not to take 15–16 Rutgers lightly: In their previous meeting, it took a Justin Brownlee layup with four seconds left for the Red Storm to hold off the Scarlet Knights, at Carnesecca Arena back on February 20. And so today, Rutgers hung around with St. John's again, took them down to the wire again, and still it was only after a near–Red Storm collapse and some questionable officiating in the final seconds that St. John's will advance to the Big East Tournament quarterfinals.
St. John's led by ten with 8:43 to go this afternoon — a lead Rutgers would chip away at, finally taking a lead of their own with just under a minute to go. But let's skip ahead to the final seconds. St. John's, thanks to free throws by Dwight Hardy and Sean Evans, took a three point lead with 17.7 seconds left. Malik Boothe would foul Rutgers' Mike Coburn, who hit both his free throws to cut the lead to one.
But Hardy couldn't handle the ensuing inbounds pass, giving Rutgers possession, still down by one. Then, after Coburn took some contact in the lane but couldn't hit (no foul was called), Brownlee grabbed the rebound and was fouled. But St. John's troubles weren't over yet: Brownlee missed a free throw, St. John's regained possession when the ball went out of bounds, and then D.J. Kennedy missed a free throw of his own before making one to extend the Johnnies' lead to two. And after Rutgers failed to connect on a long inbounds pass, it appeared St. John's had sealed the victory.
Except that, inexplicably, Brownlee ran toward the sidelines with the clock still running and hurled the ball into the stands — and in the process, stepped out of bounds with about 1.7 seconds remaining. Even more inexplicably, the referees missed it. And so despite not making a field goal in the final four minutes, despite a scary final minute, and despite one of their players stepping out of bounds with time on the clock, St. John's hung on, 65–63. Here's the video of the final, controversial seconds:
St. John's will play Syracuse tomorrow, and considering how much trouble they had with Rutgers' zone defense today, and how the Scarlet Knights were able to win over the Garden crowd late in the game — they'll have their work cut out for them. (Syracuse, by the way, is the only team to beat the Johnnies at the Garden this year, and did so convincingly, 76–59, back in January.)
This was a game St. John's was supposed to win — the extra day of work made necessary when Syracuse, owners of the tie-breaker between the two teams, clinched the double-bye on Saturday. And St. John's did win, barely, though not without controversy. They've gotten a lot of good press lately, but they'll probably want to avoid coverage of how this one ended. Game time tomorrow is 2 p.m.