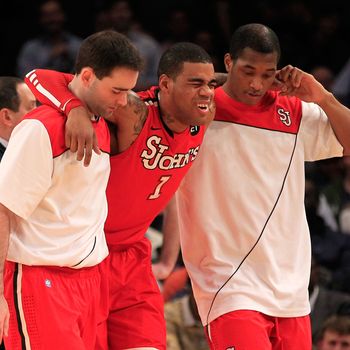 Photo: Chris Trotman/2011 Getty Images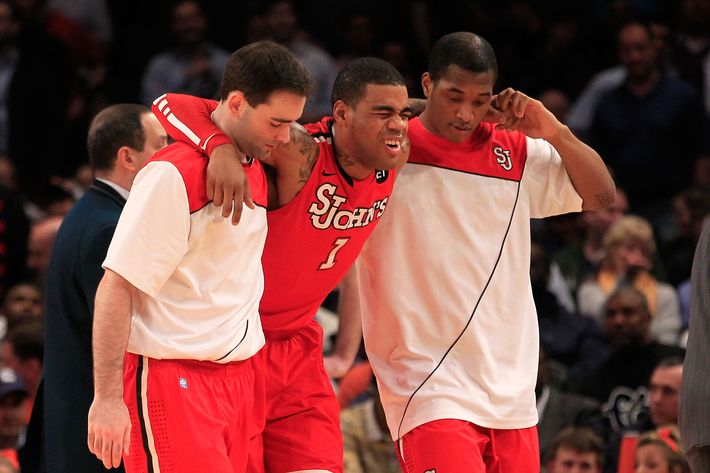 It has been a wonderful season for St. John's, a giddy succession of home upsets, a fitting send-off for a senior class that had been much maligned, a pleasant flicker of what's to come with heralded recruiting classes arriving soon. It's going to be tough to level this season of good feeling. But boy, yesterday, yesterday was a rough one.
The Red Storm lost to Syracuse yesterday, in a tough battle, but that was the least of their concerns. It was revealed after the game that D.J. Kennedy, a senior forward who has been the heart and soul of this team for four years, tore his ACL and will miss the rest of the season, and his career. His public statement was very sad.

"I've wanted to play in the NCAA Tournament since I picked up a basketball in grade school, and this is a real blow. I am disappointed on a personal level, but I am happy that I will be with my teammates on the road during the tournament, supporting them the way they always support me."
Yeah, that just stinks. The last four years of St. John's basketball have been tumultuous, crazy, and ultimately revelatory, and Kennedy has been there for all of it. Then, just before he finally gets to reap the benefits of all the work and toil … he doesn't get to play.
Adding insult to injury to insult injury, the NCAA Tournament Committee does take injuries into account when it does its seedings. So St. John's, which had a chance to go as high as No. 3 if it made a deep run in the tournament, has dropped to No. 6 in Joe Lunardi's recent Bracketology rankings. (Warning: Lunardi, perhaps from lack of sleep this last week, has gotten a bit sloppy; he has Illinois as a No. 9 seed playing No. 1 seed Ohio State in the second round, which can't happen.) A sixth seed, before the season, would have made Red Storm fans do back flips. But now? Now it's just another sad thing.
But St. John's will have its name called Sunday, and that hasn't happened in nine years. That is a happy thing. That is something new.