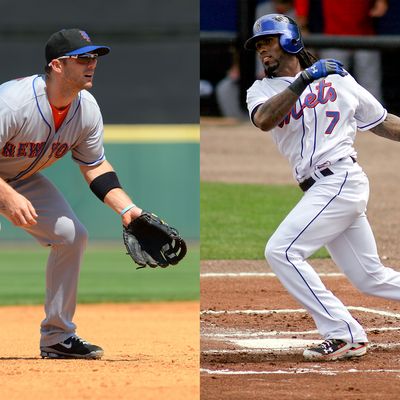 Photo: Mark Cunningham/MLB Photos via Getty Images, Marc Serota/Getty Images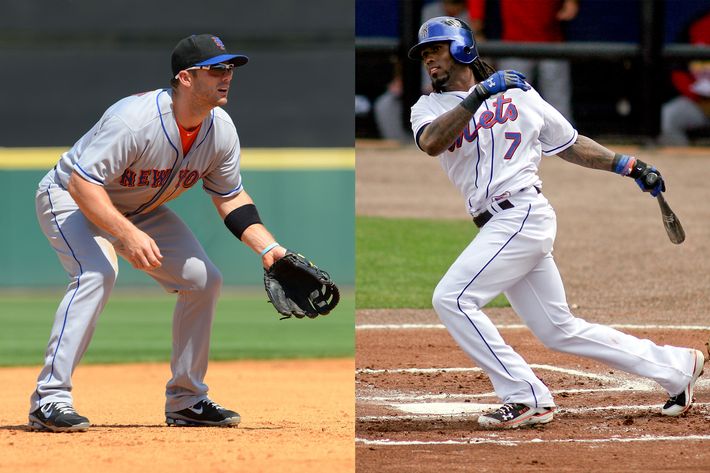 The 2011 Major League Baseball season starts THIS WEEK, you guys! Thus, we'll be taking a look at the Mets, the Yankees, and the rest of baseball all this week, leading up to Thursday's Opening Day. Today: the Mets.
First Game: Friday, April 1, 7 p.m., at Florida
First Home Game: Friday, April 8, 7 p.m., vs. Washington
LINEUP
SS Jose Reyes
CF Angel Pagan
3B David Wright
RF Carlos Beltran
LF Jason Bay
1B Ike Davis
2B Brad Emaus
C Josh Thole
No one is still sure if Carlos Beltran will be ready for Opening Day or not; Nick Evans, who will be sent down if Beltran's not around, is crossing his fingers he won't. Emaus is the Spring Training find. In a perfect-case scenario, he's Dan Uggla. In an optimistic case scenario, he's Ty Wigginton. In a worst-case scenario, he's Brad Emaus. Most important: He's not Luis Castillo. Thole may platoon with Ronny Paulino when the latter is back from a PED suspension.
For what it's worth, if everyone's healthy … that ain't so bad of a lineup, is it?
BENCH
Scott Hairston
Willie Harris
Chin-lung Hu
Daniel Murphy
Mike Nickeas
Nickeas is the backup catcher until Paulino returns. Murphy is an Über-utility sort, a nice role for him. The Mets traded Mike Antonini for Hu in December; he's an infielder with a lifetime .191 over four seasons with the Dodgers.
ROTATION
1. Mike Pelfrey
2. Jon Niese
3. R.A. Dickey
4. Chris Young
5. Chris Capuano
Obviously, one of the two reclamation Chrises will drop out of the rotation when Johan Santana returns, if Johan Santana returns. Even with Santana, this is hardly a shut-down rotation. Pelfrey's probably an ideal No. 3 or 4 starter, Niese has yet to make the leap the Mets had been hoping for at this point, and Dickey, as much fun as he is, is still a knuckleballer, one of the most unpredictable of all pitchers (and pitchers are unpredictable enough as is). These guys will need every inch of Citi Field's dimensions.
BULLPEN
RHP Pedro Beato
RHP Taylor Buchholz
LHP Tim Byrdak
RHP D.J. Carrasco
RHP Bobby Parnell
CL Francisco Rodriguez
There's one spot left, and it'll be taken by either Manny Acosta, Blaine Boyer, or Jason Isringhausen (!!!). For entertainment's sake, we think we can all agree we hope it's Izzy. Francisco Rodriguez appears to be healthy and ready to mow down batters and fathers-in-law like crazy. The Mets have only one left-hander, which has Jon Heyman in a tizzy, if not anyone else. Beato, by the way, is the team's other Rule V pickup, besides Emaus. The Mets are searching everywhere for talent this season. That's encouraging.
FUN WEEKEND ROAD-TRIP OPPORTUNITIES
June 10–12, at Pittsburgh: PNC Park is a gorgeous stadium, and it ain't hard to get seats. Plus, you know, the Mets might win a few of these.
June 24–26, at Texas: The Mets last played the Rangers three years ago, and the franchises have a lot in common.
July 22–24, at Florida: This'll be the last season for that ridiculous stadium. (Next year, they'll play in a more reasonable stadium that was financed through the shadiest fashion imaginable.)
OUTLOOK
The entire National League is down this year, which means if you can hang around .500 until September, you've got a chance. The Mets, if the pitching can hold, might be able to do that. As we wrote in the magazine, this year isn't ultimately the point, but it'd be nice for the Mets to give fans something to feel non-nauseous about. Is .500 enough? .500 is probably enough.

Prediction: 81–81, fourth place, NL East.