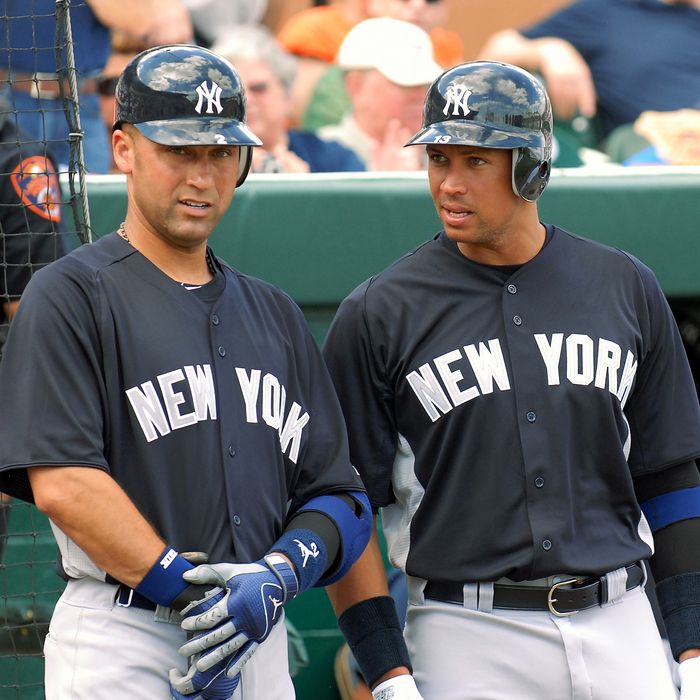 Photo: Mark Cunningham/2011 Mark Cunningham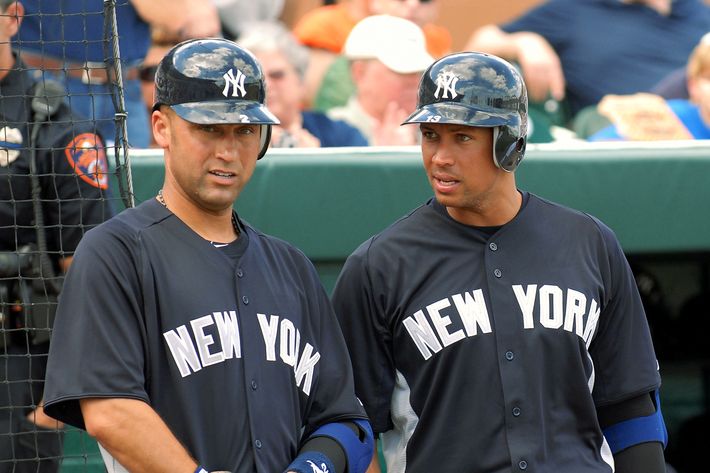 The 2011 Major League Baseball season starts THIS WEEK, you guys! Thus, we'll be taking a look at the Mets, the Yankees, and the rest of baseball all this week, leading up to Thursday's Opening Day. Yesterday: the Mets. Today: the Yankees.
First Game/Home Game: Thursday, March 31, 1 p.m., vs. Detroit
LINEUP
SS Derek Jeter
RF Nick Swisher
1B Mark Teixeira
3B Alex Rodriguez
2B Robinson Cano
DH Jorge Posada
CF Curtis Granderson
C Russell Martin
LF Brett Gardner
We would go under the "Jeter leads off vs. lefties, Gardner vs. righties" idea, but we have a sense Joe Girardi will ultimately back off it, at least for Opening Day. (If just because it keeps the slow Martin out of the nine hole.) That's just a guess, though: The spring lineup today had Gardner leading off. Granderson should be ready for opening day, though we'll know for sure tomorrow. We know many are forecasting disappointment for the Yankees this year, but boy, that lineup is still pretty fantastic. Particularly if Jesus Montero is the Yankees catcher by mid-season.
BENCH
Eric Chavez
Chris Dickerson
Andruw Jones
Gustavo Molina
Eduardo Núñez
Some of this may depend on whether Granderson is healthy or not, but Chavez, improbably, and Núñez have definitely made the team. Gustavo Molina beat out youngsters Montero and Austin Romine, though he'll be shipped out once Francisco Cervilli is back from the DL. Gustavo is not related to the family of Molina catchers, by the way.
ROTATION
1. CC Sabathia
2. A.J. Burnett
3. Phil Hughes
4. Ivan Nova
5. Freddy Garcia
The derby is over, and Nova and Garcia are the "winners." But the minute Garcia gets lit up — and it'll happen — look for the calls for Kevin Millwood to begin. And then when Millwood gets lit up, look for the calls for a trade to begin. This is going to be happening all year. And let's not forget who the No. 2 starter is.
BULLPEN
RHP Joba Chamberlain
LHP Steve Garrison
LHP Boone Logan
CL Mariano Rivera
RHP David Robertson
RHP Rafael Soriano
Colon, having placed in the derby, has the long-man role, much to the chagrin of some. Pedro Feliciano will begin the season on the DL, and Garrison looks like he'll be his temporary replacement/Girardi lefty binkie.
FUN WEEKEND ROAD-TRIP OPPORTUNITIES
April 22–24, at Baltimore: There's another weekend series in August, but there isn't much more fun than the regular Camden Yards takeover by Yankees fans.
June 17–19, at Chicago Cubs: You guys, the Yanks are back at Wrigley Field this year! The last time they headed to Wrigley, it was during Roger Clemens's undignified limp to 300 wins. If you've never been to Wrigley, man, you gotta go. Though tickets are a bit pricey.
August 5–7, at Boston: The Yanks are at Fenway on the weekend twice this year, but the first time is April 8 to 10, and it's going to be freezing. Save the icicles at Fenway for October.
OUTLOOK
The rotation is a serious problem, and the roster is aging faster than the rest of us are, through the magic of pinstripes. There are a ton of question marks. But man, still: This lineup is just terrific, and that's before Montero gets here. The Red Sox are the best team in baseball. The Yankees are just behind them.

Prediction: 96–66, second place, AL East (wild-card winner).