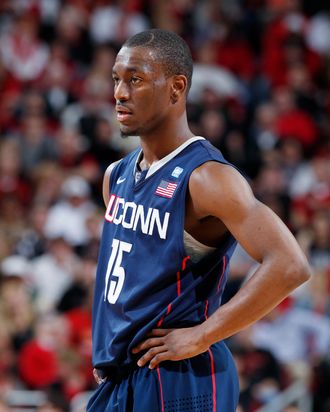 Photo: Joe Robbins/2011 Joe Robbins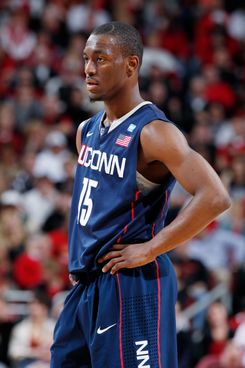 How deep is the Big East this year? There are three teams playing on the conference tournament's first day today — the day for teams that didn't get a bye of any kind, and thus would have to win five games in five days to claim the tournament title — that could hear their name called on Selection Sunday. There is a team playing today (UConn) that is ranked in the Top 25. There is another (Villanova) that was ranked as recently as last week. As John Gasaway points out at Basketball Prospectus, it's possible that today's Seton Hall-Rutgers game will be the only game in the entire tournament not to feature a team that will be selected for the field of 68. The next five days should be a lot of fun.
The tournament kicks off in about 30 minutes with DePaul-UConn, followed by that Seton Hall-Rutgers game. Then tonight, it's South Florida-Villanova and Providence-Marquette. As you'd imagine, via that Basketball Prospectus article, Ken Promeroy's computer likes top-seed Pittsburgh in this tournament, giving them a 29.4 chance to take the title. Syracuse, last year's favorite, has the second-best odds this time, at 15.9 percent.
St. John's, by the way, has the fifth best odds, at 9.6 percent. (That's a nice improvement over this time last year, when the Johnnies, lacking a bye and playing on Tuesday, had just 0.06 odds to secure the conference automatic berth.) They've got that bye this year — to the second round, at least — so they'll kick off their most anticipated postseason in years tomorrow, against the winner of Seton Hall-Rutgers.