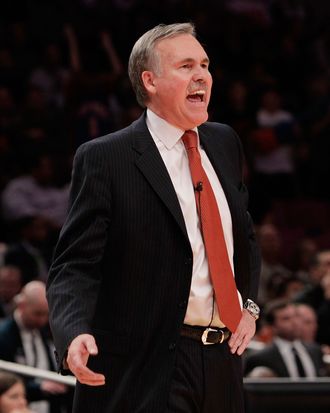 Photo: Nick Laham/2010 Getty Images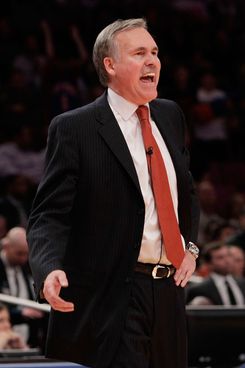 On one hand, as Knicks blog Buckets Over Broadway pointed out last night, the Knicks team we are seeing right now is not the one we'll see in the playoffs, that "these games are more about a process of cohesion than they are about winning games to improve seeding." On the other hand in their last three losses, the Knicks look to have some serious problems that it's difficult to imagine being solved in time for the playoffs … or even after that, really.
The Knicks lost 119–117 to the Pacers last night, thanks to a basket from Danny Granger with 0.7 seconds remaining. It was one of those crushing last-second shots that everybody loves when Carmelo Anthony hits them but is just devastating when Danny Granger hits it.
The last shot can be frustrating, but honestly, the Knicks were fortunate even to get that close. They were down by as much as fifteen and once again showed little to no interest in playing defense. This is something everyone knew would happen, but no one quite thought it would be this bad. Tyler Hansbrough has basically looked like, well, like Carmelo Anthony these last couple of games. That shouldn't happen.
Mike D'Antoni is starting to feel some serious heat, but as little as he has emphasized defense in his coaching career, Anthony and Amar'e Stoudemire have emphasized it even less. This is not a team that is figuring it out right now, and they are running out of time. They're still virtually certain to make the playoffs, against either Chicago, Boston, or Miami. Those teams have players a lot more talented than Tyler Hansbrough. It's fun to play with the playoff simulator — which has the Knicks in it! Look! — but what has been a "they're working it out, bear with them" has turned into a legitimate "wait, how can this team, this supposedly special confluence of superstars, already be having issues with effort?" The theory is that they'll turn it on for the playoffs. After the last three games, though, it's worth asking what, exactly, they'll be turning on.