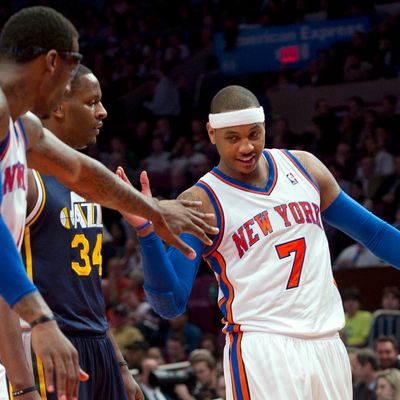 Photo: ? Ray Stubblebine / Reuters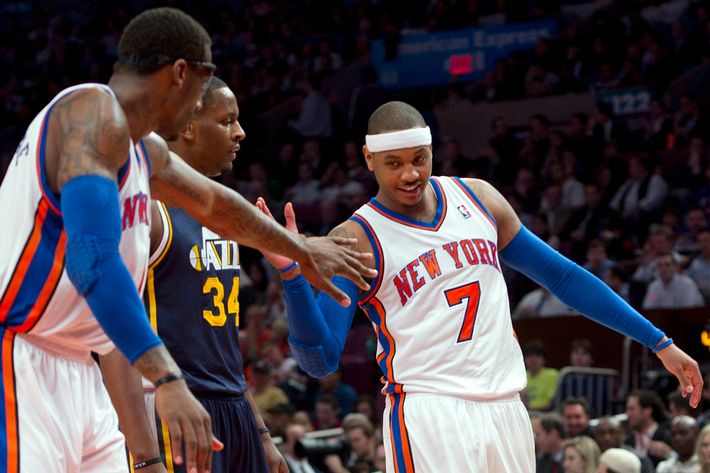 Shortly after the Knicks traded three quarters of their team for Carmelo Anthony (and oh-yeah-also-Chauncey Billups), we joked on Twitter that "the Knicks did just get 1,000 times more awesome in NBA Jam." Last night, in a 131–109 blowout victory over the Jazz, for the first time, the Knicks had their two superstars working in sync, at the top of their abilities. It was beautiful.
Carmelo Anthony scored 34 points last night and Amar'e Stoudemire scored 31, each averaging far more than a point a minute. But it was when they were together that they shined brightest. According to ESPN Stats and Info, when 'Melo and Amar'e were on the court together, the Knicks scored 66 points, 46 of which came from the two of them. Stoudemire was 10-of-12 from the field during that time, and Anthony was 6-of-7 with five assists. The Knicks were without Billups, Ronny Turiaf, and Bill Walker again last night, but with those two working like that, they could have been without six guys and it would have been fine. The Knicks scored 40 points in the first quarter last night. Remember that classically awful game against the Celtics three and a half years ago, the one when the Knicks scored 59 total? Nights like last night make games like that one seem a lot further away than they are.
How giddy and easy was last night? Andy Rautins played five minutes and even scored a basket. And Shelden Williams, for long stretches late, was the primary offensive option. It was an old-fashioned laugher. This is an experience it's difficult to become accustomed to.
This is gonna sound crazy, but the way the Knicks played last night, they can even potentially start scoreboard watching not just for the 76ers (who are approaching from the rear for the No. 6 playoff seed) but also the Hawks, who are three and a half games up but in the midst of a slide. At this point, it doesn't much matter who has the 6th or 7th seed, but the 5th seed could make a considerable difference.
That might seem silly, but we've been waiting for the Knicks to start nailing down that offensive cohesion that takes advantage of two superstar players and a complementary supporting cast. Now, even with Billups out, it's coming together. The Knicks have two tough road games this week (at Memphis, at Dallas), but then they have five very winnable games before hosting Boston and Orlando. Last night, we saw what they can do. Let's see if they really do it now.