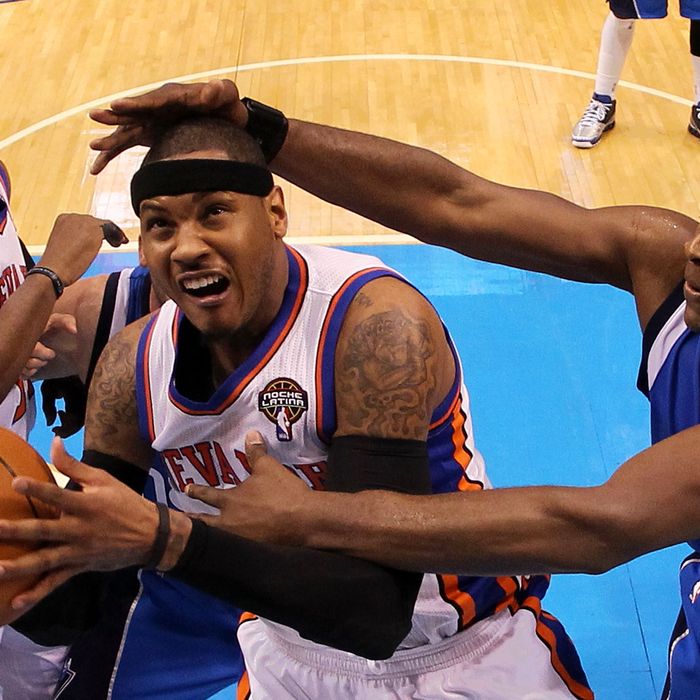 Photo: Ronald Martinez/2011 Getty Images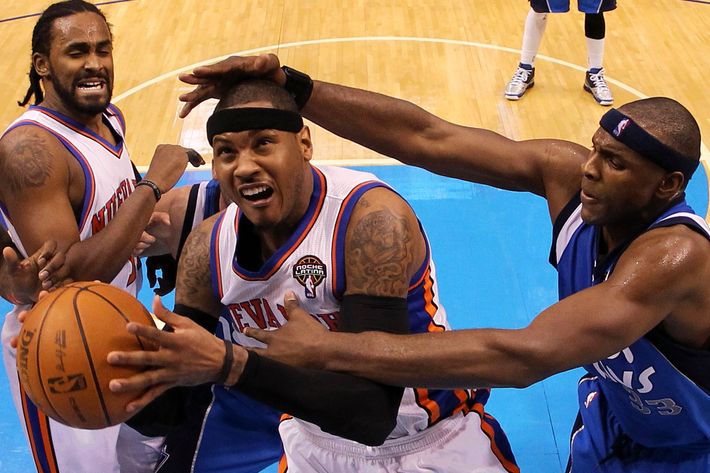 NBA games have a way of burying your expectations. As a fan, expert, or, one would imagine, even a coach or player, you go into each matchup with a sense of meaningful stats and trends and an educated notion of how the two teams stack up. Then the men in shorts hit the court and it's immediately evident how wrong you were. Last night in Dallas, both the Knicks and Mavericks were coming off close games the day prior and plane trips overnight. New York had won three straight and four of their last five, most recently outlasting a Memphis comeback on the grace of a Carmelo Anthony game-winner. Dallas was just one for its last three, losing a heartbreaker in New Orleans the evening before. It seemed like as open an opportunity as any for the Knicks to sneak out of Texas with an upset victory. After all, they had all the momentum, and Dallas's Rick Carlisle had just publicly denounced his team as "soft."
And then the game started and, not long thereafter, ended. The Mavs, likely in response to what was likely a calculated dig, came out petulant and with an indiscriminately vengeful edge. The Knicks, still buzzing from Melo's big shot, had no such urgency. The roles of spanker and spankee were promptly and irreversibly decided practically at tip-off. New York didn't even play that badly — they tempered poor shooting with 22 first-half free throws — but Dallas was in full-on bully mode. Their bigs (or "huges" if you're using the Knicks' frontcourt for context) contested every shot and ripped every rebound from the sky. Various Mavs scored effortlessly from all ranges. Amar'e Stoudemire and Carmelo Anthony looked rushed and out of sorts, and that's even before Amar'e suffered a "stinger" (alas, a nerve injury, not an arthropodan superpower) in his shoulder. The deficit was ten by the end of the first quarter and twenty by the mid-second, with Dallas dominating on every front but the free-throw line in front of its home crowd. The Knicks made a run — everybody does — but those Mavericks were in no mood for more drama. They regrouped after a precarious third and put New York away for good with a 9–0 run in the fourth.
As with any punishment, there are lessons to be learned here about the energy level required against an elite team, and especially an ornery one that's playing on national television. Though the Knicks dropped to just a one-game lead on the seventh-seed Sixers, they got a worthwhile taste of full-bore, playoff-level basketball and a wake-up call to boot. With a handful of potential trap games on the horizon (the Pacers twice, trips to Detroit and Milwaukee), a little prodding may have been just the ticket to get New York ready. Last night's silver lining might not be realized until a week or two from now.
Meanwhile, the loss's most significant lasting damage, should it hold, was Amar'e Stoudemire picking up his sixteenth technical foul. Stoudemire got whistled for that crucial T after a bit of tangling and untangling with Dallas's Brendan Haywood, which means an automatic one-game suspension to be served in Sunday's game against the Pacers. There's still a chance the league rescinds it, though, as they have already this season. After the sixteenth, there's a suspension for every two technicals, so the Knicks would very much like for the league office to reconsider Bennett Salvatore's call (and for Amar'e to keep his hands to himself henceforward).
New York gets a much-needed period of rest before a game Sunday evening at home against the Pacers. If anything, you hope that the bitter taste of last night's embarrassment lingers well into the weekend. As the Mavericks demonstrated, a little bit of spite goes a long way.