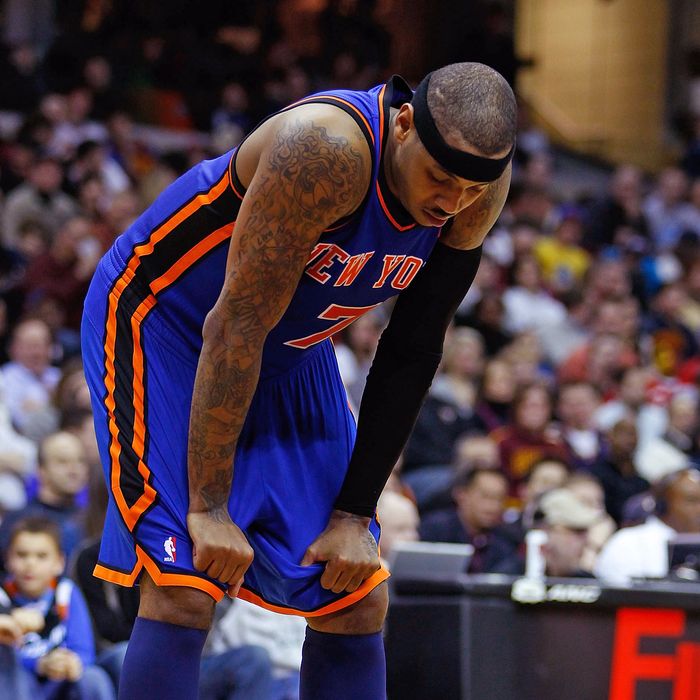 Photo: Jared Wickerham/2011 Getty Images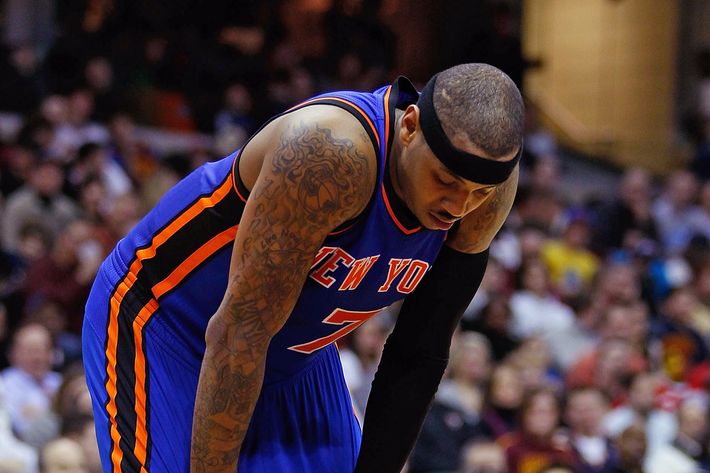 The last time we saw the Knicks, they'd tumbled below .500 and were milking a day's rest to regroup and hopefully pick themselves up. With two games against losing teams over the weekend, there was some hope among fans that they'd break their fall with a much-needed victory. Well, maybe not "hope," but certainly frantic, borderline-violent desperation. No such luck. The most damning part of New York's slide has been their tendency to energize bad teams, and that continued this weekend with back-to-back losses to the Bucks and Bobcats.
Mike D'Antoni's club has just been absent on both ends of the floor. What could be a high-octane offense hasn't been able to maintain any pace. They played standstill, halfcourt offense over the weekend, but not with enough movement to produce open shots against any set defense. Carmelo Anthony's scoring was tidier and individually sufficient but not dynamic to the point that he was buoying his teammates. Amar'e Stoudemire still looked sluggish and couldn't find the net on what had typically been automatic looks up to this point. Chauncey Billups continued to sling questionable and ill-fated attempts from outside despite a thigh injury that isn't quite healed. No other Knick — not Landry Fields, Toney Douglas, or any role player — could make enough of an offensive impact to cover for the ills of the stars. New York shot below 40 percent for the weekend, which is less than ideal, especially for a team that didn't play much defense.
Oh, and they didn't play much defense. Milwaukee and Charlotte run two of the least efficient offenses in the game (of basketball, but presumably other untested sports as well.), but the Knicks were more than willing to boost both squads to point totals (and efficiencies) well over 100. They were kind of gracious, really. It's baffling how the league's most incompetent offenses can bloom against a team desperate for a win, unless you've actually watched these Knicks defend. Though they speak of must-wins and such, the leaders of this team have been defenseless against some rather pedestrian attackers. We didn't catch a hint of desperation from Stoudemire as he played revolving door to Boris Diaw, he of the birthing hips, pea-high vertical, and, as it happened, twenty points and eight rebounds on Saturday. Losing track of Brandon Jennings is one thing, but the Knick guards couldn't keep the likes of Matt Carroll and Keyon Dooling in their cross hairs either. Guys like Amar'e and Chauncey Billups are clearly struggling through tired legs, but still, the lack of defensive accountability, wit and, at the most elementary level, effort is staggering.
The wacky thing about all this ineptitude is that the Knicks don't have all that much to lose. Despite losing nine of their last ten, the risk of falling out of the playoff picture remains infinitesimal, and they might not even drop out of the seventh seed (the eighth-seed Pacers are 3.5 games behind). So, yeah. We're looking at a squad that's made little apparent progress, has lost to enough sub-.500 teams that they now rank among them, and still probably won't miss the playoffs. One can only hope that they scrape together some sort of momentum before embarking on a seven-game series against Bulls, Celtics, or Heat. It'll take an effort vastly different from what we saw this past weekend.