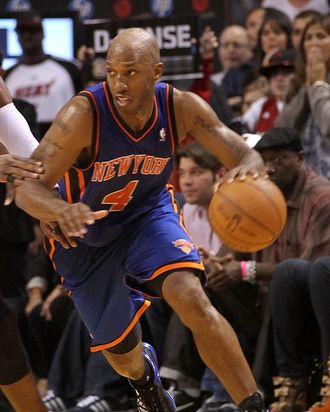 Photo: Mike Ehrmann/2011 Getty Images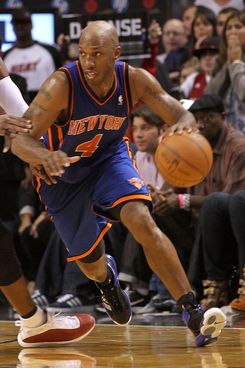 The Knicks have played pretty solidly in four games without Chauncey Billups. Toney Douglas has shot very well and taken care of the ball in his stead, and New York is 3–1 since Billups went down with a bruised thigh. They'd like Chauncey back as soon as possible, though, particularly with a tough road back-to-back against the hot Grizzlies and stalwart Mavericks at hand. No such luck. It was previously believed that Billups would make his return on the road, but those deep thigh bruises have a tendency to linger. In fact, that's not even the whole story.
From the New York Post:

The Knicks point guard, suffering from a deep thigh bruise, revealed Wednesday he has knee swelling as a result of the injury. He will miss his fifth straight game here and said he's probably going to miss Thursday's game in Dallas.

Billups said the thigh injury, suffered in a collision with Magic center Dwight Howard eight days ago, also caused swelling behind his kneecap.

"When I got hit, it shifted my knee," Billups said. "I got extra swelling. I'm just treating it."
Without the steady Billups, Douglas and the rest of the Knicks will face a pretty hefty challenge tonight against the Grizzly backcourt (thankfully, not a literal description). Memphis boasts a few of the league's best perimeter defenders, including the feisty Tony Allen and the sagacious Shane Battier. As a team, they force more turnovers than anybody in the NBA, and they've won three of their last four games. It would behoove Toney and his high-usage, high-turnover comrades, Amar'e Stoudemire and Carmelo Anthony, to take extra care of the ball this evening if they wish to break the Grizzlies' momentum. Tip-off in Memphis is at 8 p.m. tonight, and the game will be televised on NBA TV as well as MSG.