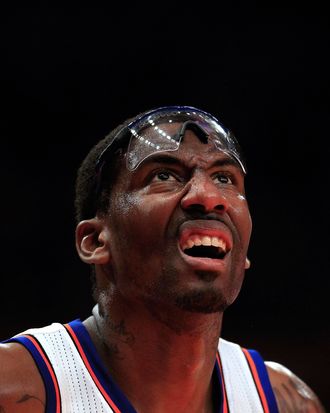 Photo: Chris Trotman/2011 Getty Images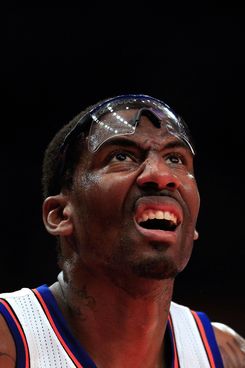 The Knicks will play the Orlando Magic this evening in a game that was originally scheduled for November 2, 2010. That was the day that debris from some especially vigorous rummaging in the Madison Square Garden ceiling accumulated on the court, causing all sorts of alarm among those interested. Fearing the presence of asbestos, Garden officials opted to postpone the game and save themselves the headache of getting sued by 20,000 people with headaches. Players were given the night off, fans were given a voucher, and the game was rescheduled for tonight. And now it's tonight.
The Knicks of November had a losing (1–2) record but were full of wide-eyed, early-season hope and energized for a challenging matchup against an elite Eastern Conference club. The Knicks of right now also have a losing (35–38) record, and are full of bleary-eyed, late-season malaise and are probably dreading the Garden invasion of Dwight Howard more than any carcinogenic dust bunnies. They've lost nine of their last ten, including one last week to these very same Magic, and are just dying to buck their monthlong funk (Say that ten times fast without swearing!). One might say it's "almost a must-win." Both teams, of course, have made massive changes to their rosters since November. There aren't any arcane rules to be applied here, but one can't help but fantasize about a night in which Danilo Gallinari, Wilson Chandler, Raymond Felton, Rashard Lewis, and Vince Carter (among many others) are flown in for one night with their former teams. That would be simultaneously exciting and depressing in like a dozen different ways.
Meanwhile, back in the real world, the Knicks will face a somewhat depleted Magic team this evening. J.J. Redick will be absent once more, while former Knick and Melo-adversary Quentin Richardson will sit out with an abdominal strain. Most important, the mighty mite they call Jameer Nelson probably won't play. Nelson's given Chauncey Billups and Toney Douglas quite a bit of trouble recently, so the Knicks would just love it if Orlando exercise caution with his sprained knee. Whatever the circumstances, New York just desperately needs a victory. And also for the ceiling to not rain asbestos. But mostly a victory.