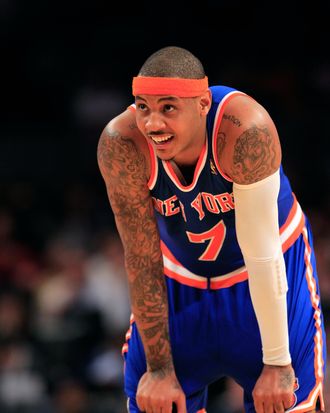 Photo: Chris Trotman/2011 Getty Images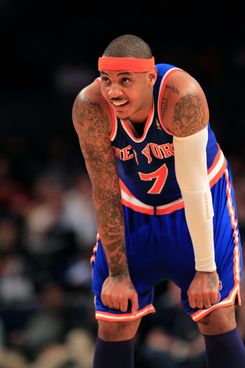 When you've lost six straight games — and especially when you've lost six straight games with a revamped roster and a fan base prepared to enter panic mode — a win of any kind is a welcome thing. But last night's 113–106 Knicks overtime win against Orlando was particularly satisfying. The Knicks played with defensive intensity, Carmelo Anthony exploded after halftime, and this time, in the critical fourth quarter, they'd bend but not break.
Anthony's 39 points — all but six of which came after halftime — were the most he'd scored as a Knick. (To echo the MSG broadcast team, a bad shot's only a bad shot if you miss it.) And if we're going to dissect Anthony's body language when the team is struggling, let the record show that during his terrific third quarter last night, he smiled and laughed as he drained shot after shot, and in the fourth quarter, he walked to the bench during a time-out with his arm around Toney Douglas. This probably means nothing. But for one night at least, Carmelo appeared comfortable.
Not that the Knicks played a perfect game: Given all that's happened over the past couple of weeks, the final seconds of the fourth quarter were downright torturous. (Mike D'Antoni deciding not to foul up three is one thing; Jared Jeffries, of all people, opting not to put his hands up on Jason Richardson's three once the ball was inbounded is another entirely.) And while Anthony torched the Magic, Amar'e Stoudemire was hardly utilized on offense after halftime, despite a strong second quarter. That said, the Knicks rode the hot hand, and it worked.
Then in overtime, it was Orlando that unraveled (with a little help from the officials), between Dwight Howard's technical foul and Richardson's retaliatory trip of Anthony that negated an Orlando three-pointer. (As any observer of hockey could tell you, the retaliatory action is always the one the refs see.)
We'll mention here that Orlando played shorthanded last night — Jameer Nelson was among those who missed the game — but over the past couple of weeks, the quality of the Knicks' opponent on paper hasn't mattered very much: They hung with Boston last week, but let Tyler Hansbrough and the Pacers beat them twice in three days the week before that. The Knicks needed a win over anyone, be it a good team, a bad one, or a good team missing players. And last night they got it. Finally.