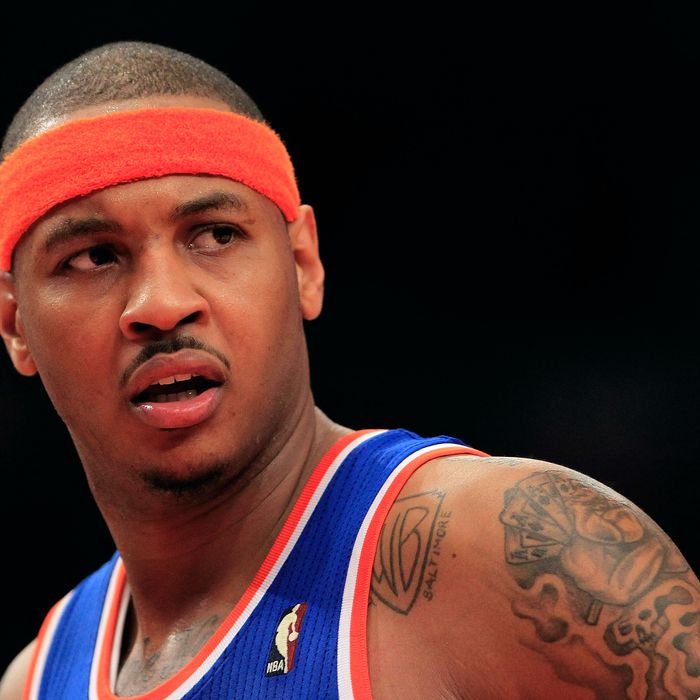 Photo: Chris Trotman/Getty Images/2011 Getty Images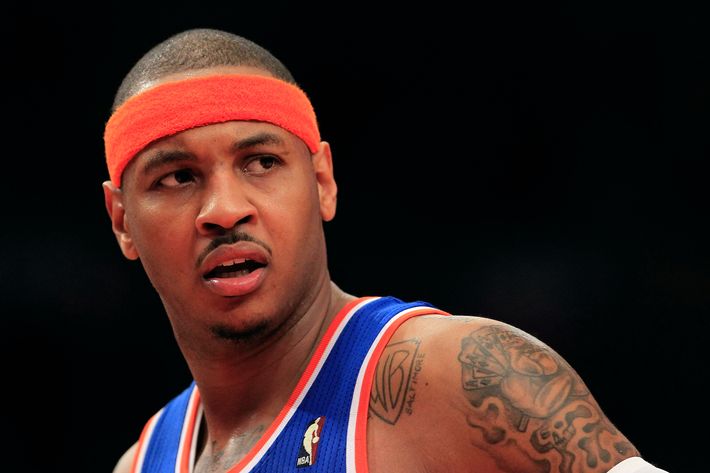 The Carmelo Anthony trade, made two weeks ago (right after this terrific win, for which we're already nostalgic), was of course not meant solely for this season. There were some initial thoughts about sneaking up to the No. 5 seed, or maybe giving the Knicks a puncher's chance against one of the three/four Eastern Conference heavyweights. But few believed Carmelo and Amar'e Stoudemire and the rest of the crew would jell immediately, and, regardless, the move was partly with an eye on Chris Paul/Deron Williams/Dwight Howard anyway. This year was the feeling-out period. Right? A fun little playoff trip — Playoffs! At the Garden! For the first time in seven years! — and all kinds of giddy "look at those two superstars!" excitement. It was supposed to be free money. So why does it feel so demoralizing? Why is it so little fun to be a Knicks fan right now?
The Knicks lost a crusher last night to the Celtics, 96–86, a game the Knicks dominated until the Celtics threw some elbows and said, "Okay, it's ours now." It dropped the Knicks to 7–9 since the Anthony trade and even has the Pacers looking at making a run at the No. 7 seed. Mostly: It has Knicks fans reeling, watching their team play down to the level of competition and be unable to close out games even though they just traded three quarters of their team specifically for a guy who was supposed to close out games. This all feels awfully familiar.
Most alarming: You'd be amazed how often Stephon Marbury's name has come up in conjunction with Carmelo Anthony's lately. That is the nightmare scenario for the Knicks: Just sixteen games into The Carmelo Era, he's already being branded a malcontent and a team cancer. This couldn't have turned sour faster had Carmelo installed rotting cottage cheese under every seat after his first MSG shootaround.
It's ugly now, but is it gonna stay ugly? We thought we'd take a look at the five major issues — at least the public perception of "issues" — contributing to the bad feeling toward Carmelo and the Knicks right now and see whether they're overblown, whether they're lasting, or whether they're unfixable.
1. Carmelo isn't playing a team game. This is the major focus of Adrian Wojnarowski's column for Yahoo Sports this morning. He sums it up succinctly: "For now, the Knicks need Anthony to accept the notion that his sloppy, scattered and selfish basketball is intolerable. As one Eastern Conference assistant coach said: 'He has a career worth of bad habits. They weren't going to change in a month.'" Carmelo has never been anywhere he hasn't been the primary star, but, whether he realizes it yet or not, this is Amar'e's team. Let's not forget: Before Amar'e came here, he was never seen as a leader. This new, tougher, I Own This Town Amar'e is a new creation and one we didn't really see until about a month into his time here. Theoretically speaking, Carmelo should benefit from having Amar'e take the spotlight (and the defenders) away from him, but so far, the two haven't played well together at all. The fundamental issue that needs to be resolved: Will Carmelo realize that he must bend to the Knicks rather than have them bend to him? If he does — this year, or the next — the Knicks have an otherworldly talent at their disposal. If not, they have Marbury.
Chances of positive resolution: 85 percent. You have to think that this'll eventually get figured out. It might take a training camp, but as long as everyone's healthy, there's too much talent for there not to be at least some improvement on this front. Maybe Amar'e has to beat him up at some point, a battle that forges mutual respect and admiration. That's what would happen in a movie.
2. Carmelo sulks too much. Nobody cares if you don't talk to the media in this town, because nobody likes the media in this town. But they do care if you act like an aggrieved party after you've played a lousy game, like it was someone else's fault you were 2-of-12 from the field and had one of your worst games as a pro. We'll say this: We've seen a lot of this picture floating around this morning. Carmelo is starting to look like a bit of a baby, someone who wanted the good parts of New York (clubs, money, places to stash LaLa, Gray's Papaya) and none of the bad parts (media attention, crazy expectations, MSG asbestos, infuriatingly entitled people on bicycles). The night Carmelo made his debut, he was showered with the most massive cheers the Garden has produced in years. Right now, the Knicks fans feel like he is not returning the favor. He looks like a sulking, pouting, spoiled overpaid would-be superstar. You can forgive Knicks fans for knowing what one of those look like.
Chances of positive resolution: 55 percent. This one's really up to Carmelo. Denver fans would put that percentage much lower, we'll say that.
3. The Nuggets are better, and more fun. Those of us who felt like the Knicks gave up too much for Carmelo when they absolutely didn't have to have plenty of ammunition: Denver is 10–4 since the trade and very well might end up with 50 wins. And they're doing it with the players we loved, the ones we watched grow together the first half of this season. Raymond Felton, Wilson Chandler, Danilo Gallinari, and Timofey Mozgov are all major contributors to a team that no Western Conference team wants to see in the playoffs. This led the always-amusing Fake Mike D'Antoni Twitter to mock-muse, "Shit, I shouldve hade dinner before thos postgame drinks…I just drunk dialed Gallinari."
Chances of positive resolution: 85 percent. Denver's fun now, but they're still not a championship-caliber team. Besides, they're two time zones away. Just ignore them. Take their number out of your phone.
4. Mike D'Antoni is a bad/inflexible coach. We've never bought into the idea that D'Antoni is so committed to his system that he won't deviate from it; the guy tried starting Sheldon Williams and Jared Jeffries, for crying out loud. But when you've traded three quarters of your team for one guy, and that guy isn't playing well, you can't fire that guy; you have to fire the coach. People have forgotten that D'Antoni is one of the most influential coaches of his generation and that the Knicks were lucky to get him. To be fair, a record of 96–138 over three years will do that.
Chances of positive resolution: 20 percent. We don't think this is even slightly D'Antoni's fault, but we're an apologist. If the losses keep coming, though, blame has to fall on someone. And if Donnie Walsh's contract isn't extended, you'll be able to tell which limo on the way to MSG D'Antoni is in, because it'll be the one with the buzzards circling overhead.
5. You know, maybe the Knicks just aren't that good. We all just assume this notion that Carmelo Anthony and Amar'e Stoudemire are top ten NBA players and once they figure out how to work together, they'll be Jordan and Pippen. But they might not be. Lots of very smart people don't think they are.
Chances of positive resolution: 100 percent. Eventually, we'll know the answer to this question, definitively. For better or worse.