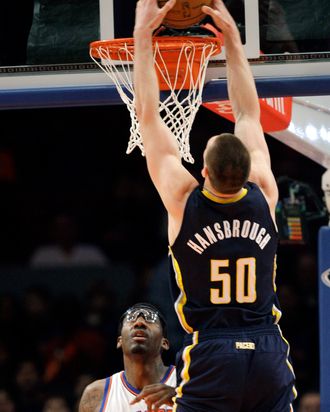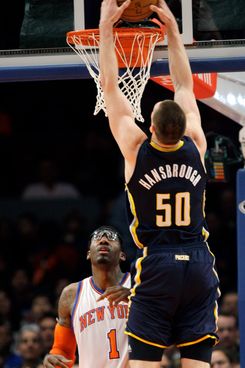 Chauncey Billups returned to the Knicks' lineup last night after missing six games with a bruised thigh, and the Knicks returned to the Garden for the first time since back before the Big East Tournament. Opposing them? A Pacers team that had lost six straight games and would play without its leading scorer, the flu-stricken Danny Granger. And yet it was the Knicks that looked all out of sorts on both ends of the court in an ugly 106–93 loss to Indiana.
The Garden crowd — watching its first game since learning that season-ticket prices would be jacked up 49 percent next year — took to booing in the second half. And they had plenty of reasons to grumble: a weak defensive effort, which Tyler Hansbrough and the Pacers took full advantage of; the lack of a true big man to match up against the 7–2 Roy Hibbert (who finished with twelve points, eight boards, and five blocks); and an inconsistent offense that made it impossible to make up for their defensive shortcomings by lighting up the scoreboard.
A couple of less-than-fun facts: Billups shot 0–7 from beyond the arc in his return, Carmelo Anthony shot just 1–8 from the field in the second half, and at one point in the fourth quarter, the Knicks went more than five minutes without scoring — a stretch in which they could have mounted a late rally, since after a pair of Amar'e Stoudemire free throws cut the Pacers' lead to ten, Indiana scored just one basket in almost five minutes themselves.
So that all happened. And if the long-term goal remains learning to play together in time for the postseason, a new short-term goal has presented itself: Amp up the energy against these very same Pacers, who they'll play again tomorrow night.